Schumacher rules out early victories
| | |
| --- | --- |
| By Glenn Freeman | Friday, February 26th 2010, 17:34 GMT |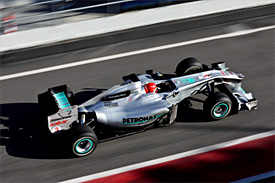 Michael Schumacher says that Mercedes GP's performance is still not where the team wants it to be after his first day on track at the final pre-season test.
The seven-time world champion finished the day seventh fastest at Barcelona, and while he admitted that the team had not tried any low-fuel running, he repeated his claim from the first test at Valencia that Mercedes will not be able to win races early in the season.
"At the moment we are not perfectly in the position we would like, probably to be competitive enough to win the first races," Schumacher told reporters on Friday.
"But we are working hard, the season is long, and the main issue is not to be too far off. This is very difficult to judge right now, the real picture."
Despite the apparent lack of pace from his car, Schumacher added that he had settled in well with the team that won both world championships as Brawn last year.
"We are working very well together, it has taken very little time to get on with everybody," he said. "They are very good guys, it's very professional and a good atmosphere.
"But we have to prove ourselves on the track. Testing is one thing, racing is another thing."