Whincup continues winning streak
| | |
| --- | --- |
| By David Wright | Friday, February 26th 2010, 17:20 GMT |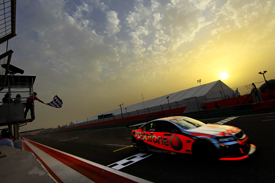 Team Vodafone's Jamie Whincup continued his winning ways in 2010 with a comfortable victory in the first race of the Desert 400 at the Bahrain International Circuit.
Whincup led from start to finish and was never seriously troubled, beating home Ford Performance Racing's Mark Winterbottom who ran a strong race throughout but was just that little bit slower, also having to pass Craig Lowndes after the first round of pitstops.
Lowndes came home third despite dropping down to ninth on lap one, but was back up to sixth by lap four and continued to make ground through the first round of pitstops to emerge from them in second place, losing out to Winterbottom soon after and managing to hold off Garth Tander at the end of the race for the final spot on the podium.
After starting a career-best second, fifth was not quite what Shane van Gisbergen had hoped for but it was a clean race for him, including taking the place from James Courtney in the final stint in a battle which saw them pass and repass each other over nearly half a lap, Courtney just over a second behind at the chequered flag.
After losing ground at the start and dropping as far back as 12th on lap two, seventh was a great recovery for Supercheap's Russell Ingall, just ahead of the second HRT car of Will Davison with Rick Kelly and Michael Caruso completing the top ten finishers.
Todd Kelly looked set to be one of those top ten finishers despite qualifying 18th. He moved up to 13th on lap one, and used an early pitstop stratehy, pitting on lap 5 of 37, to his advantage, emerging sixth after the first round of pitstops.
However, it seems it was just a little too aggressive, forced to pit with two laps remaining while running in seventh place for a splash of fuel, dropping him all the way down to 20th place.
Ford Performance Racing's Steven Richards had an early end to his race after qualifying seventh and running sixth in the early laps, as a brake issue forced him into the pits at the end of lap 4, emerging later only to park the car later in the race for good.
Pos  Driver                Make                  Time
 1.  Jamie Whincup         Holden Commodore VE   1h21m37.4276s
 2.  Mark Winterbottom     Ford Falcon FG        +     3.4152s
 3.  Craig Lowndes         Holden Commodore VE   +    11.7939s
 4.  Garth Tander          Holden Commodore VE   +    13.4197s
 5.  Shane Van Gisbergen   Ford Falcon FG        +    26.0770s
 6.  James Courtney        Ford Falcon FG        +    27.4087s
 7.  Russell Ingall        Holden Commodore VE   +    38.3863s
 8.  Will Davison          Holden Commodore VE   +    39.6628s
 9.  Rick Kelly            Holden Commodore VE   +    43.1510s
10.  Michael Caruso        Holden Commodore VE   +    44.0590s
11.  Steven Johnson        Ford Falcon FG        +    45.6720s
12.  Lee Holdsworth        Holden Commodore VE   +    46.4155s
13.  Jason Bright          Holden Commodore VE   +    59.6374s
14.  Jonathon Webb         Ford Falcon FG        +  1m08.0057s
15.  Jason Bargwanna       Holden Commodore VE   +  1m09.6105s
16.  Greg Murphy           Holden Commodore VE   +  1m13.5371s
17.  Fabian Coulthard      Holden Commodore VE   +  1m14.4251s
18.  Alex Davison          Ford Falcon FG        +  1m14.6270s
19.  Jason Richards        Holden Commodore VE   +  1m20.3416s
20.  Todd Kelly            Holden Commodore VE   +  1m23.7995s
21.  Tim Slade             Ford Falcon FG        +  1m28.5771s
22.  Andrew Thompson       Holden Commodore VE   +  1m35.9016s
23.  Tony D'Alberto        Holden Commodore VE   +  1m48.2780s
24.  Karl Reindler         Holden Commodore VE   +      1 lap
25.  Tony Ricciardello     Holden Commodore VE   +      1 lap
26.  Daniel Gaunt          Holden Commodore VE   +      1 lap
27.  Paul Dumbrell         Ford Falcon FG        +      4 laps

Not classified/retirements:

     Driver                Make                  Laps
     Steven Richards       Ford Falcon FG         16
     Dean Fiore            Ford Falcon FG          5