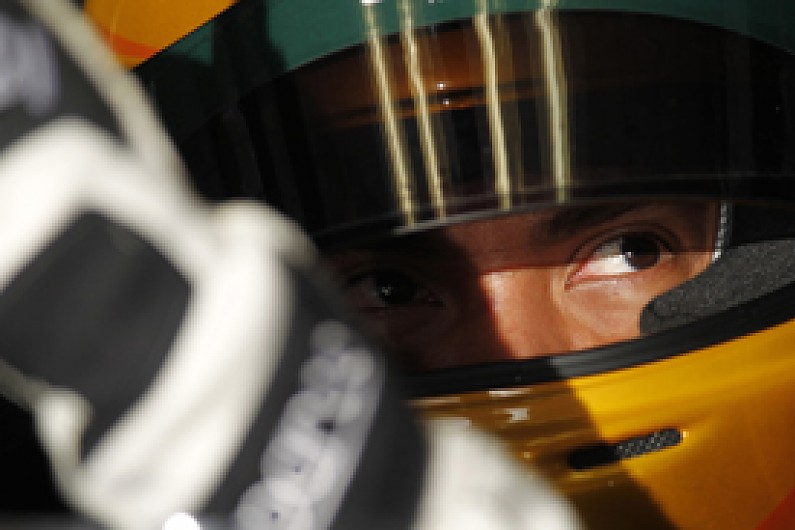 While many test and reserve drivers probably won't have a chance to see Formula 1 action until the end-of-season young driver tests, Lotus 'number three' Fairuz Fauzy was entrusted with the new team's shakedown and has had two full days of running in the T127 as well.
AUTOSPORT heard from the Malaysian at the end of what will be his final day of F1 testing for now, as Fauzy explained why he feels Lotus has already achieved a huge amount even though it still trails the field.
Q. You did the shakedown at Silverstone and then ran briefly at Jerez, but today must have felt a bit special?
Fairuz Fauzy: I must say that this was my first real test. I had power steering, and of course I am at Barcelona - which is very difficult for drivers and is a very physical track. I was struggling in the beginning to get the time, as the car was a bit difficult to drive then.
So we had some changes at the beginning of the day. We found a big chunk of time compared to where we started. The team is still improving the car all the time, we just didn't have enough time to do it again.
There is potential in the car, so the car will improve even more. That is for sure - because we came in, to make some improvements, but then there was a red flag which was a shame. I think the next time we went out there would have been an improvement.
Q. How much of an assistance to you was it that you had power-steering this time?
FF: This is more like being able to drive with one hand - that is for sure! Without power steering, you feel heavy because of the downforce, but you don't get the right feeling because you just feel heavy and you can't push like you want to. With the power steering you can really attack the corners, you can really attack with the car and it oversteers you can correct it.
Without the power steering, it is just undriveable - you can forget about it. Forget about it. The car has been designed to run with power steering, so there is a different suspension geometry. To me, the objective for Jerez was to get my superlicence. I got it, and then I just had to do whatever I could.
It is also more important for us to just get mileage as well, with or without power steering. We took the decision to run the car like a race simulation because I think you can also test the reliability.
We want to make sure for the first race that we are in good shape - especially Bahrain, where the weather is going to be hot. We have not tested in the desert weather before so it will be interesting with no refuelling and a heavy car. The brakes will be crucial as well in Bahrain, so it will not be a challenge just for us but for everyone as well.
Q. How much more pace do you think there is in the car, and how much quicker you could go if you were more comfortable in it?
FF: I think I could do a 1m26s here if I just had one more chance to drive again. There is more potential in the car, but a single change takes a lot of time in F1. There was a big chunk of time I found from 1m30s to 1m28s, and another two seconds is definitely possible. It is a shame really with that red flag at the end, because I could have got in the 1m27s bracket.
We are still far off, but it is improvement - and the most important thing is to see the progress going up. We don't want to make mistakes at the beginning - it is much better to build up the speed. To me, we had the whole day and it is better to push at the end of the day rather than the beginning. The team made a good effort and, although we had a bit of an issue and lost some time this morning, but we got all the information and improved the car.
Q. What do you know about when you will drive again?
FF: I don't know. At the end of the day I just to be ready for whenever, because you never know. If I am given an opportunity, then why not? But let's see how it goes for me.
Tomorrow Jarno Trulli is going to do his job, so let's see how he improves the car. Of course, Heikki [Kovalainen] then has a chance to improve the car again - so we have another three days to go to improve the car. I hope the car can get into the 1m24s, and let's be realistic - if the car can finish in the 1m24s then it is a big achievement considering we don't have any upgrades yet. Hopefully throughout the season we have some big upgrades of aero, so that will be a big time coming for the car.
Q. This is a more representative track than Jerez in terms of downforce and tyres. How did it feel?
FF: For sure we are still lacking in downforce compared to the top teams, but the team at home is still improving the aero - so you need to be realistic. To be given the opportunity to design and build a car within five months, it is not easy. I think to build a car in five months, compared to the current teams, and be just six seconds back is a big achievement.
Some of the teams have put a lot of money in. We started with a good and we have built up, but we are still new. Where we are now is a good achievement considering we have not been to the first race weekend yet. I am sure [the gap] will drop to four seconds, three seconds and then to two seconds. You never know - so we will see how it goes.
Some of the new teams are still missing, and they will be struggling as well, so maybe we are lucky to have been given the chance to prepare over five months. Hopefully if we can finish in the 1m24s for this test, I think that will be a really, really good achievement for us. We need to be realistic - if we are two or three seconds off the fastest then that is a good achievement for us. It is not first, but the aero will help - and the upgrades through the season - they for sure will help.
Q. Judging by the progress you have seen since Jerez, what shape do you think Lotus will be in?
FF: To me, it is difficult to tell. The tyres have not yet worked in a difficult condition, and here is still quite cool compared to Bahrain. That will be a big challenge because you will have to carry a lot of fuel, perhaps 160kg, and that means the brakes will be a very big issue. I think the tyres will be hard as well. I am sure the engineers are already preparing some tests for this here.
New season.
New rules.
New cars.
New drivers.
Get ready for an F1 season like no other with unlimited access to the world's best motorsport journalism.
Get 10 free extra stories
Upgrade for free - and boost your monthly news limit instantly.
Register for free
Expert opinion.
Technical insight.
Unbeatable analysis.