Aston tops Sebring test despite crash
| | |
| --- | --- |
| By Matt Beer | Tuesday, February 23rd 2010, 23:41 GMT |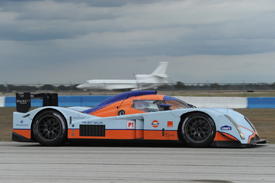 Aston Martin Racing completed a dominant performance in winter testing at Sebring by topping both today's sessions - but left with a heavily damaged car after a late crash.
Harold Primat had a violent impact with the barriers at Turn 1 with two hours remaining in the test, doing substantial damage to the LMP1 Aston. Primat was sent to hospital for precautionary checks afterwards.
By that time Aston had already set an unbeatable time in the afternoon session, and its 1m46.894s lap from the morning would stand as the best of the two days of testing.
The Intersport Lola of Jon and Clint Field made a late improvement to repeat its Monday second place, with Highcroft's HPD car third ahead of the Dyson Lola-Mazda and Cytosport's Porsche.
Genoa Racing recruited double Sebring winner Andy Wallace and Indy Lights champion JR Hildebrand to assist Larry Connor with the first test of its new LMP Challenge class car, and the star line-up came away with the fastest time in class today, ahead of the Gunnar and Level 5 teams.
Risi's Ferrari topped GT2 again, followed by the Flying Lizard Porsches, Scott Sharp's new Extreme Speed Ferrari and the Falken Porsche. The Rahal Letterman BMWs were only seventh and eighth today, while the new RSR Jaguar lost a lot of mileage to niggling technical problems.
Kelly Moss Racing led the way in GT Challenge again, this time with Rob Walton its pacesetting driver.
Pos  Cl   Drivers                            Car                Time
 1.  P1   Primat/Fernandez/Mucke/Buncombe    Lola-Aston Martin  1m46.894s
 2.  P1   Field/Field                        Lola-AER           1m47.925s
 3.  P2   Brabham/Pagenaud/Franchitti        HPD                1m48.153s
 4.  P2   Dyson/Smith                        Lola-Mazda         1m48.496s
 5.  P2   Pickett/Graf                       Porsche            1m49.318s
 6.  PC   Connor/Wallace/Hildebrand          Oreca              1m56.753s
 7.  PC   Zugel/Jeannette/Julian             Oreca              1m56.900s
 8.  PC   Tucker/Bouchut                     Oreca              1m57.054s
 9.  PC   Feinberg/Marcelli                  Oreca              1m57.515s
10.  PC   Pagerey/Wong                       Oreca              1m58.988s
11.  GT2  Melo/Bruni                         Ferrari            2m02.559s
12.  GT2  Law/Neiman                         Porsche            2m02.929s
13.  GT2  Bergmeister/Long                   Porsche            2m03.021s
14.  GT2  Sharp/van Overbeek                 Ferrari            2m03.198s
15.  GT2  Sellers/Henzler                    Porsche            2m03.227s
16.  GT2  Brown/Cosmo                        Ferrari            2m03.250s
17.  GT2  Mueller/Hand/Werner                BMW                2m03.305s
18.  GT2  Auberlen/Milner                    BMW                2m03.377s
19.  GT2  Pappas/Bleekemolen                 Porsche            2m04.252s
20.  GT2  Robertson/Robertson/Murry          Doran Ford         2m04.835s
21.  GT2  Gentilozzi/Goossens/Drissi/Pruett  Jaguar             2m07.734s
22.  GTC  Walton                             Porsche            2m07.795s
23.  GTC  Carlisle                           Porsche            2m08.205s
24.  GTC  Holden                             Porsche            2m08.412s
25.  GTC  Curtis/Sofronas                    Porsche            2m08.854s
26.  GTC  Rodriguez/Bieker/Friedman          Porsche            2m10.016s
27.  GTC  Lewis/Vento                        Porsche            2m10.856s
28.  GTC  LeSaffre                           Porsche            2m11.962s