Patrick struggles at Fontana
| | |
| --- | --- |
| By Diego Mejia | Sunday, February 21st 2010, 06:33 GMT |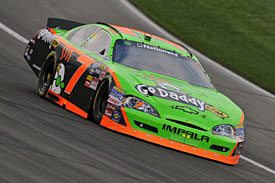 Danica Patrick said she accomplished her goals on her second NASCAR outing after finishing 31st in the Nationwide Series race at Fontana.
The JR Motorsports driver started the race from 36th on the grid and soon dropped back in the field, not at ease with the handling of her #7 Chevy. Initially she lapped more than two seconds off the pace, losing a lap as early as lap 19.
She then had a close call when Kyle Busch tried to pass her on the outside, but the current series champion avoided contact. Later she exceeded the speed limit after her first pitstop, where changes were made to try to improve the balance of her car.
Patrick then began to improve her pace, running around a second off the leaders at one point as she continued to get to grips with the car and experience the different lines on the low-banked 2-mile oval.
In the end she completed a clean run to 31st place, finishing three laps down on race winner Busch, who made an impressive last-lap pass on Greg Biffle to win in a green-white-chequered finish. Polesitter Joey Logano led most of the race but made contact with Biffle following the final restart.
"That first stint was a bit of a struggle but after that I think we fell into our rhythm," said Patrick. "I got up top and ran up there, I ran on the bottom and I made it work when I was pushing, I made it work when I was loose.
"It wasn't so pretty to start but I came to do what I came here to and did what I wanted today."
Patrick said she learned many lessons out of her second Nationwide Series race, admitting that she eventually had to go back in set up changes done to her car as the track changed throughout the race.
"I learned what happens with the track from the beginning to the end of the race," she said. "The track tightened up, it picks up a lot of grip so you've got to be prepared for that. We basically went back on all the changes by the end of the race so, you know, that's just what happens.
"I learned what the car feels like and what lane it needs by whether it's pushing or whether it's loose and just more miles under my belt. Getting comfortable with the limits of the car."
The IndyCar star says she is going to need to forget about her race results as she continues to learn all the nuances about stock car racing.
"I'm a competitor and I'm used to running up front so it's shocking when you go that far back," Patrick said. "But you know what? This is a whole new ball of wax for me, you know, it's all different. I have to disconnect from the results for quite sometime I think because they're probably not going to be what I'm used to."
However, Juan Pablo Montoya scored a similar result when he raced in the Nationwide Series, finishing 28th in his second race at Texas, where he also finished three laps down on the winner.