Entry list revealed for 2010 WTCC
| | |
| --- | --- |
| By Steven English | Friday, February 19th 2010, 13:34 GMT |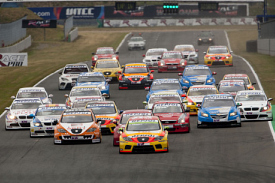 The World Touring Car Championship today released its full entry list for the 2010 season and series bosses remain confident, despite the loss of several works entries.
The factory SEAT team has been withdrawn, while BMW has scaled back from five to two cars and Lada has also pulled out.
But independent team SUNRED Engineering will run five diesel SEATs, four under the SR Sport name with support from the SEAT factory, while BMW and Chevrolet return with expected title contenders.
"We are proud that we managed to maintain a high quality field in this challenging economic environment," said series promoter Marcello Lotti. "Most of our regular drivers and teams are still with us, which guarantees continuity in the growth of the championship's popularity.
"We are grateful to BMW and Chevrolet, who renewed their trust in the championship confirming their factory programmes. And we also thank SEAT because, although no longer competing with an official team, the brand made a big effort to guarantee a strong representation of customer teams that will be provided by SEAT Sport with the necessary technical support."
There has also been an influx of new teams to the series with Zengo-Dension running a diesel SEAT for Norbert Michelisz and British outfit Bamboo Engineering running two Chevrolet Lacettis.
"It is very rewarding for us to see young drivers and teams joining the championship," added Lotti. "The new entries from Bamboo Engineering and Zengo-Dension Team, the arrival of promising youngsters like Michelisz and [Harry] Vaulkhard, and the full commitment of drivers coming from new regions - [Mehdi] Bennani from Morocco and [Darryl] O'Young from China – are testament to the WTCC's worldwide reputation."
About Lada, Lotti said: "We were surprised and disappointed because in 2009 they undertook a commitment for a three-year programme. This is now a matter for the FIA to deal with."
WTCC 2010 entry list
 #1 Gabriele Tarquini    SR Sport             SEAT Leon TDi
 #2 Tom Coronel          SR Sport             SEAT Leon TDi
 #3 Tiago Monteiro       SR Sport             SEAT Leon TDi
 #4 Jordi Gene           SR Sport             SEAT Leon TDi
 #5 Norbert Michelisz    Zengo-Dension        SEAT Leon TDi
 #6 Yvan Muller          Chevrolet (RML)      Chevrolet Cruze
 #7 Rob Huff             Chevrolet (RML)      Chevrolet Cruze
 #8 Alain Menu           Chevrolet (RML)      Chevrolet Cruze
#10 Augusto Farfus       BMW (RBM)            BMW 320si
#11 Andy Priaulx         BMW (RBM)            BMW 320si
#15 Franz Engstler       Team Engstler        BMW 320si
#16 Andrei Romanov       Team Engstler        BMW 320si
#17 Michel Nykjaer       SUNRED               SEAT Leon TDi
#19 Harry Vaulkhard      Bamboo               Chevrolet Lacetti
#20 Darryl O'Young       Bamboo               Chevrolet Lacetti
#21 Mehdi Bennani        Wiechers-Sport       BMW 320si
#23 Marin Colak          Colak Racing         SEAT Leon
#24 Kristian Poulsen     Poulsen Motorsport   BMW 320si
#25 Sergio Hernandez     Proteam Motorsport   BMW 320si
#26 Stefano D'Aste       Proteam Motorsport   BMW 320si