Toro Rosso eager for dry running
| | |
| --- | --- |
| By Mark Glendenning | Wednesday, February 17th 2010, 19:40 GMT |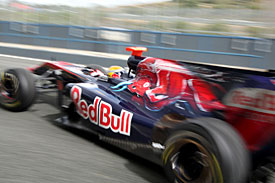 Toro Rosso is hoping for more stable conditions over the remainder of this week's Jerez test after admitting that the frequently-changing weather during the opening day of running made it difficult to advance with its programme.
Conditions changed virtually by the lap during the first few hours, making it tricky for the teams to get any kind of baseline to work from. And with rain having also interfered with last week's test at the same track, STR technical director Giorgio Ascanelli said that opportunities to learn were limited.
"The conditions were pretty similar to the last test so there was nothing much to learn," he said. "We have checked different solution for the brakes. You might think that is stupid, because this is not the weather for the brakes but high-wear brakes in wet conditions can be extremely tricky to use.
"We had a few electrical and mechanical problems to fix and check out from the last test. We have a few new parts to check out. Other than that, not much to say - the fifth day with rain on the same circuit. It's boring."
Ascanelli's sentiments were echoed by Sebastien Buemi, who completed 79 laps and finished fourth on the timesheets.
"It was a very difficult day because we had no stable conditions," he said. "Very difficult to test anything and to get a clear answer about which directions to go in. It's quite hard when it rains and then dries quickly.
"The amount of water was changing and then it became dry, but not really, because there were still some parts of the track which were quite wet. We still could do most of the planned runs, so we are quite happy with the day. It could have been better obviously with a dry day. Now we need to analyse quite a few things which are important for tomorrow and for the rest of the test, and also for Barcelona."
"For tomorrow, we have two plans - for the dry and for the wet. The important thing is to put a lot of mileage on the gearbox and all the systems and we have got some two or three tests to do. We want to do some back-to-backs to be sure and this is it more-or-less."