Lotus thrilled with early reliability
| | |
| --- | --- |
| By Steven English and Mark Glendenning | Wednesday, February 17th 2010, 19:31 GMT |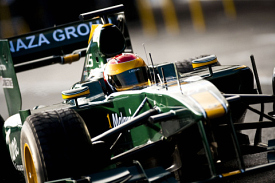 The Lotus F1 team was thrilled to complete a trouble-free first day of official Formula 1 testing at Jerez on Wednesday.
Fairuz Fauzy was behind the wheel for the team's first full test day and completed 76 laps and finished 11th quickest - 0.6s faster than fellow new team Virgin, which did just 10 laps.
Lotus chief technical officer Mike Gascoyne revealed that the team's performance exceeded even their own expectations as it experienced no reliability problems at all.
"We had no real troubles," Gascoyne told AUTOSPORT. "A couple of little temperature issues in the first couple of runs, which is to be expected. But in general reliability was excellent.
"We didn't have power steering on, so when it dried out the loads were just too heavy to drive effectively. Apart from that it was an excellent day for the whole team, everything went better than we could have hoped."
Gascoyne says the team believed it had produced a reliable car and that it now has a solid base from which to work on its speed.
"We knew the car went together very well and we weren't concerned about its reliability," he added. "But obviously you've got to run a car and see what happens. Really, we had no issues at all with the car and we now need to start working on performance and see how quick it is.
"We always said we wanted to put a good, solid car on the track and present and run it professionally, and I think today showed that we'll be able to do that."
The team's power steering system was delayed but will arrive at Jerez tonight to be fitted for tomorrow's running.
Fauzy was impressed after his first run in the car and is confident that there is a lot more time to come from the T127 tomorrow.
"We expected to have a bit of problems but none so far, there was no single failure at all," Fauzy told AUTOSPORT. "Thank God the car is reliable, I was very impressed.
"The objective was to put some mileage on the car and for me to do laps for the superlicence test, and we managed to get through without any problems.
"I was very impressed with the car, it feels very balanced and there's a lot of potential. I was a bit unlucky without the power steering, if it's there I'm sure I can find another three or four seconds at least."