Schumacher sure W01 will be strong
| | |
| --- | --- |
| By Pablo Elizalde | Tuesday, February 16th 2010, 10:06 GMT |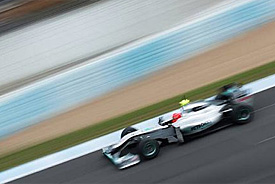 Michael Schumacher says he is fully convinced Mercedes GP's W01 car will allow his team to fight for the championship in the 2010 season.
The seven-time champion, returning to the sport with the German squad after his retirement at the end of the 2006 season, admitted however that it was not easy to tell what the current pecking order is, despite two testing sessions having already taken place.
"I am fully convinced that we have a car that is able to fight for the championship," Schumacher told the official Formula 1 website.
"Where we are exactly is hard to say. This is especially true for me as I don't have the data from last year's car."
The 41-year-old insisted he feels fully prepared and motivated to tackle the challenge of returning to Formula 1 over three years after his retirement.
"To drive a car like this again, it was just that great old feeling I know so well," he added. "Nothing comes close. I love that sensation, I always did. It was just that my batteries were empty at the end of 2006 that I retired.
"I would not have wanted to go on. Now my batteries are fully loaded again!"
And Schumacher says he is not expecting any problems with team-mate Nico Rosberg, and admits it has been positive to be able to speak in German with him.
"Unfortunately I cannot look into the future. But I do not expect anything else but for it to be fine. At the moment it is very constructive and I don't expect that to change.
"For once it is quite a good feeling to be able to communicate in my mother tongue, and at the moment we are 'neighbours' as our motor homes are right beside each other here in the paddock."