Citroen boss tips Ogier for WRC glory
| | |
| --- | --- |
| By David Evans | Tuesday, February 16th 2010, 09:49 GMT |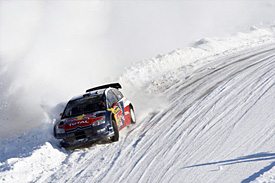 Sebastien Ogier will be France's next superstar driver and he will win rallies this season, according to his team principal, Citroen's Olivier Quesnel.
Quesnel was full of praise for the Citroen Junior Team driver's fifth place on Rally Sweden, his first attempt at the event - and only his second ever snow rally in a Citroen C4 WRC.
Quesnel said: "For me, it's very unbelievable what Seb [Ogier] has done on Rally Sweden. He had no problems. On the first day, I asked him: 'Seb, please it's new for you to rally here and I won't be pleased if you go off on the first day.'
"He said, okay, no problem and he drove very well on the first day, then we pushed more and I was happy for him to push more on the second and third days and it was perfect.
"For me, he is France's next world champion and the next big thing in the World Rally Championship. What he has done is amazing. He is strong and fast and I won't be surprised if he wins one or two rallies this season."
Quesnel has already hinted that Ogier could step up to the Citroen Total World Rally Team to drive alongside Sebastoien Loeb if Loeb's current team-mate Dani Sordo fails to impress him this season.
Quesnel said: "Seb is pressure for Dani, but Dani's a professional driver and he knows how to deal with this."