McMurray: Daytona win is 'a dream'
| | |
| --- | --- |
| | Monday, February 15th 2010, 01:31 GMT |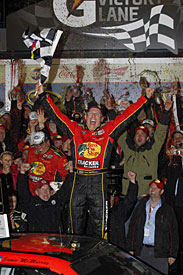 An emotional Jamie McMurray paid tribute to his former Roush Fenway team-mate Greg Biffle, after admitting the Ford driver's bump-draft gave him the edge to win the Daytona 500.
McMurray gained a speed advantage down the back straight on the race's second attempt at a green-white-chequer finish thanks to the assistance from Biffle, and that was enough for him to hold off the recovering Dale Earnhardt Jr at the flag.
"Biffle helped me out," he said. "I spun the tyres on the restart and it's a just a gamble on which line is going to give you the biggest run.
"Greg gave me an unbelievable run down the back stretch. Then when I saw the #88 coming I thought: 'Oh no Earnhardt at Daytona'. They win all the time it seems like. You never know what to expect."
It was the 33-year-old's first Sprint Cup win at Daytona, and only his fourth at the top level since making his debut with Ganassi in 2002.
He returned to Earnhardt Ganassi Racing for 2010 after he was dropped from Roush, which was forced to downsize to four cars this year due to NASCAR regulations.
"It's unreal," said McMurray. "It's unbelievable. I can't explain it. It's a dream, it really is.
"To be where I was last year [without a drive] and for Johnny Morris, Chip Ganassi and Felix Sabates to take a chance on me and let me come back, it means a lot to me. What a way to pay them back. I'm very emotional."
McMurray also thanked the fans for their patience after they had waited more than six and a half hours to see the finish, following two stoppages to repair a pot hole in the track.
"It was tough having to keep getting in and out of the car, and tough for the fans. But they stuck with us and it was good to hear the applause at the end."