Fernandes: Drivers must work together
| | |
| --- | --- |
| By Jonathan Noble | Friday, February 12th 2010, 20:32 GMT |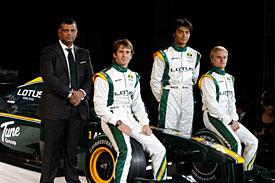 The success of the new Lotus outfit this season will depend on whether it can stick together as a team during its learning period, reckons chief Tony Fernandes.
With the outfit keeping its ambitions in check ahead of the start of the season, Fernandes thinks it vital that it remains unified during what could be difficult trials ahead.
"I think the key thing is that we really are a team, not a group of individuals, and the success of Lotus will be as a team," said Fernandes at the launch of the new car.
"If you look at the way Heikki [Kovalainen], Fairuz [Fauzy] and Jarno [Trulli] work together, I think that is a much better approach than having two drivers trying to out do each other.
"They will use their energy to try and make the team a better team and I'd like to see them channel their positive energy. Of course they will be competitive, that's the way they are, they wouldn't be in F1 otherwise, but I think they will use that in a positive way to build a better team."
Fernandes thinks it too early, and that he is not qualified enough, to make any firm predictions about the competitiveness of the new car. But the main thing he wants to see is progress over the next few years.
"Well I'm looking at the car and I can't see what a good or bad car looks like," he said. "That's my not my expertise, that is in bringing in a group of people, giving them the right environment to work.
"I think that is one of the things that Mike and the team have said - they are enjoying being back in Formula 1. The power of giving the ability of someone to perform.
"Sometimes when you work in a corporate environment and everything is bureaucratic you don't get the best out of people. That's my ability, to bring a group of people together, give them the right environment to do their best. And then get Mike the best drivers.
"What are my expectations? I would just love to finish every race in the next year. If we can beat some of the new teams that would be a fantastic start. If we can beat some of the established teams towards the end of the season that would be great.
"As Heikki said this not a one-year project, we are not here to come last every year. We are here to build a proper team, build the right foundations, not have any aspirations but build quietly and confidently. But mark my words we will compete with the very best, over a period and I think we've shown our seriousness by signing three very good drivers.
"So the expectation this year is to try and build every race. Let's learn a lot."