Solberg confident he will improve
| | |
| --- | --- |
| By David Evans | Friday, February 12th 2010, 11:35 GMT |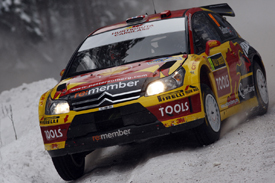 Petter Solberg is confident he can find more pace through the afternoon after languishing in ninth place at the end of his first morning in a 2009-specification Citroen C4 WRC on Rally Sweden.
The Norwegian's rally got off to the worst possible start when he crashed on the opening superspecial stage in Karlstad last night. This morning's three stages have bought more troubles for the 2003 world champion as he battled to get on top of the Citroen.
"The car's not right at the moment," said Solberg in service at Hagfors. "I don't have the right confidence to push. I think some of this is coming from last night. There's something with the car which we can fix now and then get back out this afternoon."
Petter Solberg World Rally Team manager Ken Rees added: "We have found a set-up problem with the car this morning. The car has been running too soft and Petter hasn't had the right confidence. This wasn't a problem we had at the test, but we do have the solution - but I'm not going to tell you what it is!"
Solberg is close to a minute down on rally leader Sebastien Loeb, but his immediate target this afternoon will be his eighth-placed brother Henning who is just six tenths of a second ahead in his Stobart Ford.