Loeb takes early lead in Sweden
| | |
| --- | --- |
| By Matt Beer | Friday, February 12th 2010, 10:13 GMT |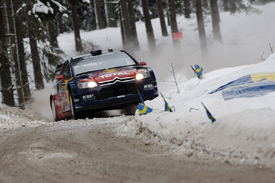 Sebastien Loeb leads Mikko Hirvonen by four seconds after the first loop of stages in Sweden, with Dani Sordo a close third.
Reigning champion Loeb started the morning with a pair of stage wins, allowing him to move past his Citroen team-mate Sordo - who had won last night's superspecial - to take the rally lead.
But Hirvonen (Ford) was then quickest on Torntorp, trimming Loeb's advantage back to 4.1s.
"I was not so confident, I don't know why," Loeb admitted at the stage end. "I did not have a perfect drive."
Hirvonen was pleased to be within range of Loeb at the end of the loop.
"I'm catching a little bit so it's going in the right direction," said the Finn. "I've changed the car a bit - not a big thing, but it's all about the small things now. It's not too bad, we're not far behind so we can still fight back."
Sordo hung on close behind Loeb in second until he too lost a few seconds on Torntorp and fell to third.
"At the start the car was moving a lot at the rear and I couldn't get a good feeling," he said. "At the end it was better and better, but the car was very nervous."
Jari-Matti Latvala is fourth in the second Ford, but is already 18s off the lead.
"The rhythm is just difficult to find," he said. "I'm braking too early sometimes and I'm not brave enough in some corners. I'm not 100 per cent happy with myself at the moment. It's not far away, but we can't lose more than this. We need to be at the same level as the other cars."
Citroen Junior's Sebastien Ogier holds fifth, 8.1s ahead of Marcus Gronholm in the Stobart Ford, with the former world champion still trying to settle in on his return.
"It feels like it's not my car," Gronholm said. "It's easy to get it right and I know how to go in these corners, but I can't really find it now. We need to do something, but for the moment I don't really know what. I need to find more confidence."
After accidents in recent events, Mads Ostberg (Adapta Subaru) made a cautious start, but then picked up his pace on SS4 and jumped past both Solberg brothers into seventh place.
Petter Solberg's spin on last night's superspecial left him 44th overnight, and he admitted the mistake was still playing on his mind this morning. He has got back up to ninth, but remains unhappy with his performance.
"I'm a little bit stressed from yesterday," said Solberg after SS4. "I've lost a lot of time on this stage. I'm trying. I'll keep on pushing and see where we can go."
Kimi Raikkonen suffered an early delay when Ford's Khalid Al Qassimi rejoined right in front of him following an excursion on SS2. The Finn was stuck in Al Qassimi's snow spray for the rest of the stage, and is currently 11th, just over two minutes behind Loeb.
In the new S2000 contest, Skoda driver P-G Andersson has already established a lead of half a minute over Janne Tuohino's Ford. Patrik Flodin leads the now-separate Production class by 18s ahead of Anders Grondal, although Flodin trails non-registered Group N Mitsubishi drivers Jukka Ketomaki and Ott Tanak in the overall standings.
Pos  Driver              Car       Time/Gap
 1.  Sebastien Loeb      Citroen   33m53.2s
 2.  Mikko Hirvonen      Ford        + 4.1s
 3.  Dani Sordo          Citroen     + 6.0s
 4.  Jari-Matti Latvala  Ford       + 18.0s
 5.  Sebastien Ogier     Citroen    + 34.4s
 6.  Marcus Gronholm     Ford       + 42.5s
 7.  Mads Ostberg        Subaru     + 54.6s
 8.  Henning Solberg     Ford       + 58.1s
 9.  Petter Solberg      Citroen    + 58.6s
10.  Matthew Wilson      Ford     + 1m39.7s