Q & A with Paul di Resta
| | |
| --- | --- |
| By Edd Straw | Thursday, February 11th 2010, 14:05 GMT |
Paul di Resta yesterday spent his first test day with the Force India team since being confirmed as its third driver.
He is due to drive the new car for the first time in next week's Jerez test, and is spending this week familiarising himself with the workings of the team.
He spoke to AUTOSPORT afterwards about the team, impressions of the new car and his plans to race in the DTM as well as test in F1 this year.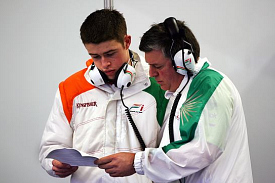 Q. After your first full day with the team, how are you finding working with Force India?
Paul di Resta: It's not really much different to how it was before, it's just nice to know that you're going to be involved with these guys all year, certainly working in the direction they want to work in. It's exciting times, it's new territory, it's a new challenge for me. It's something I've waited a long time to try to get into and I'm going to try to take full advantage of it.
Q. You're the only young driver that's going to be testing regularly this season. You must feel privileged that you're the only one with a serious development programme?
PdR: It is a serious development programme and that was something that when Force India first came up with the plan that was very attractive. I'm thankful that we went through with it and that we're moving on. They're serious about building me up as a racing driver and that's the challenge that I want.
Q. How valuable will it be to have the two pre-season days in the car before the free practice sessions?
PdR: Any driving in a Formula 1 car is something you need to get used, even from a physical point of view, finding my weaknesses. It's just getting experience in a new car, it's a different car to the one I drove last year. There are going to be new things. Formula 1 moves on so quickly, sometimes it takes you by surprise. The two days will be very valuable.
Q. Watching from the sidelines, what's your impression of how the car has gone?
PdR: It's been a reasonable day. We've got through a number of different things. They sorted a few issues, only minor ones, they got some miles. Hopefully tomorrow will be dry and we can get some performance and some better figures in dry conditions to go back and evaluate and work on. That's what these days are for, to see what they've achieved over the winter and the direction they want to go.
Q. How does it feel to be in the spotlight now, driving on Fridays at grands prix?
PdR: It's something I've waited a long time for. I've raced against a lot of guys who are in Formula 1 that are doing a tremendous amount and are probably the best that are about. I just hope I get the chance one day to get in there. Force India have set a path and are very serious about me, hopefully we can build a strong, long relationship in Formula 1.
Q. Have you started to build a relationship with Adrian [Sutil] and Tonio [Liuzzi]?
PdR: Yeah, they're two nice guys to work with. They're very serious about it and I'm sure it will be a fun year when times can be fun and down to earth and hard working when we need to be.
Q. And DTM, can you talk about what you're doing?
PdR: It all looks set to go. There's going to be two programmes so I'm going to be racing, keeping me sharp. It's a blessing that Force India wanted me racing to keep myself up to standard. So I have the blessing from Force India to do that, and from the DTM side they understand that I've got a hard programme coming and I have their blessing for the Formula 1.
Q. Switching between the two cars should be relatively easy?
PdR: I think it will be reasonably easy. When I've done it the few times, it's a different environment but it's something I need to get my head around. I think I need to keep myself racing as well as being a reserve.