Interview with Sebastien Buemi
| | |
| --- | --- |
| By Edd Straw | Thursday, February 11th 2010, 10:44 GMT |
Sebastien Buemi set the second fastest time on the wet first day of testing at Jerez on Wednesday, just a tenth of a second shy of the pace-setting Williams of Nico Rosberg.
The Toro Rosso driver played down the significance of the laptimes, but was pleased with the performance of his car on rain tyres.
Buemi shared his thoughts on the first day's running with AUTOSPORT.com.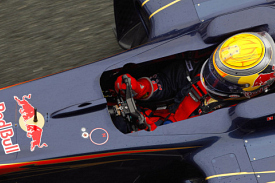 Q. Were you still able to do any useful testing even with the wet weather?
Sebastien Buemi: We knew that it was going to be like that so we decided to go out as soon as possible in order to have a little bit of dry running. We just had a stint and we were still able to see some small things that were positive for us.
We then went to the wet settings and did most of the day in the wet. We used the extreme and the inters and everything that we wanted to test so we are quite happy with the day.
Q. Obviously the times are meaningless, but is it a nice boost to be second fastest?
SB: We don't really care. What was good was that we were competitive in the rain as well.
Q. Are there many developments on the car since the Valencia test last week?
SB: There are some very small things here and there. I cannot say what. The main thing is that we were able to analyse the data. We had some small issues in Valencia that we were able to solve for this test and we just put everything together from what we have learned in Valencia.
Here, we tested the things we need and on Thursday we will put some new stuff on the car. But the most important thing was to use the maximum out of what we had in Valencia because if you don't know what you had in Valencia because you had some problems and you put new things on straightaway you don't understand well.
Q. Is the fact that you have had no major reliability problems a big source of confidence?
SB: Everybody is improving and this year the changes of regulations are not so big so you still start from the car that you had last year and improve it. It's an evolution, so you don't change everything, and that can explain maybe why reliability is not an issue.
Q. Has developing everything in-house changed the way you test?
SB: Yes, it's quite a big change because before we were just waiting for the updates then making them. Now we have to do everything and it takes a bit of time. Everybody needs to work together and we are quite happy. There is a bit more stress in the briefings, but it's going smoothly at the moment.
Q. Thursday is going to be critical with the dry weather?
SB: We expect it to be dry all day and we will be pushing very hard.
Q. What is the programme for day two if it's dry all day?
SB: We want to test the new things that we brought here and the things that we couldn't test in Valencia because of our first day problem. We also need to understand more about the tyres because we will have the hard and the medium tyres here while we had the soft and the super soft in Valencia.