Todt confident of full grid in 2010
| | |
| --- | --- |
| By Jonathan Noble and Michele Lostia | Tuesday, February 9th 2010, 11:14 GMT |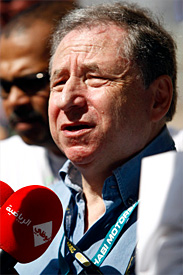 FIA president Jean Todt is confident that 13 teams will race in Formula 1 this year, even if new outfits Team US F1 and Campos Meta skip the first three races of the season.
Despite both teams insisting they are on course to make the first race, US F1 and Campos continue to be surrounded by speculation that financial issues will leave them unable to get their cars and outfits ready for the season opener in Bahrain on March 14.
Although under old rules absence from a single race would result in the teams losing their privileges, F1 supreme Bernie Ecclestone and Todt have now confirmed that provisions are in place for competitors to miss a total of three races without penalty.
This means that US F1 and Campos have theoretically got until the Chinese Grand Prix on April 18 to get their cars ready for action before they fall off the roster.
This situation means that Serbian hopefuls Stefan GP have no chance of being granted a late entry before Shanghai - despite their eagerness to race.
Speaking to media this week, Todt confirmed the three race rule - and warned Stefan GP that there was nothing automatic about it getting an entry if US F1 or Campos do not make it.
"Having less money may even be healthy, but in the meantime we'll have 13 teams in F1 this year," he was quoted as saying by Gazzetta dello Sport.
"In the final version of the Concorde Agreement it's written that a team may be absent for three races. But if a team can't go on, it's not a given that another team comes in. It's up to the FIA to decide who has the requisites."
Todt has urged a rethink of priorities in F1 - and thinks the sport needs to wake up to economic and environmental realities that the world is facing.
"We need to cut costs, improve the show and draw investors," he said. "F1 must understand that the world has changed. How can you explain that an F1 car needs 80 litres of fuel to cover 100 kilometres?
"I don't like the cost cap; we must get to a reduction through clear rules, for example with a single aerodynamic package for the entire year. Will the cars slide more in Monte Carlo? [Perhaps, but] then the quality of the drivers will be heightened."
He added: "It's not acceptable to have given up with KERS. The teams complain that it costs too much? Then they must find the way to save money. The teams are sensitive when we talk about lap times, less sensitive when the environment is discussed."