Harvick wins Bud Shootout at Daytona
| | |
| --- | --- |
| By Diego Mejia | Sunday, February 7th 2010, 03:34 GMT |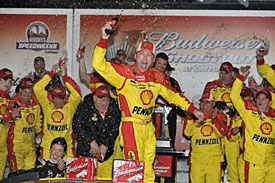 Kevin Harvick gave Richard Childress Racing its first victory for twelve months by winning the Budweiser Shootout for the second year in a row.
The Richard Childress Racing driver was at the front of the field when a caution came out with less than two laps remaining of the 75 scheduled, as a multi-car wreck unfolded behind him when Greg Biffle got tapped from behind by Jeff Gordon.
Harvick was ill on Thursday and chose to skip practice, but recovered to get back behind the wheel on race day and claim his second win at Daytona since his last points-paying victory, in the 2007 season-opener.
The 34-year-old raced his back-up car to victory after his primary machine got wrecked while driven by teammate Clint Bowyer during the practice he missed earlier this week.
"We were able to get the best restart we had all night and push [Biffle] out there and were able to just carry that momentum in to Turn 1," said Harvick after winning his first race alongside crew chief Gil Martin.
"I kind of dragged the brake a little bit to let [Kasey Kahne] get right up behind us to stay side-by-side with [Biffle] so that we didn't get any three-wide or anybody else involved in the mix. We were able to get a good push down the back. I don't know what happened after that."
Biffle and Kahne stayed on the track when the leaders pitted for the last time with just a handful of laps remaining, hoping to benefit from their improved track position, as only one attempt would be given at a green-white-chequered finish.
Harvick was among a number of drivers who took on two new tyres and he made the most of the fresh right-side Goodyears on the short sprint before the caution came out for the final time.
The first 25-lap segment of the event was led from flag-to-flag by polesitter Carl Edwards, who was only briefly challenged by Tony Stewart before the caution for a spinning Michael Waltrip came out to mark the end of the race's first segment.
Following a ten-minute break where teams pitted for tyres, fuel and adjustments, the race started to move at the front, with Jamie McMurray leading his first lap on his return to Chip Ganassi's team, just before Edwards got back in front again.
Stewart and Biffle also took turns in the lead, with Edwards eventually shuffled back and then almost spun while being followed by Juan Pablo Montoya. Later he avoided an incident with Jimmie Johnson while battling for position in the middle of the pack.
Daytona 500 polesitter Mark Martin got into Kurt Busch, causing the former Cup champion to have his second wreck at Daytona in three days, having crashed during practice on Thursday. Both were competing in their back-up cars, as Martin had also been involved in a practice crash.
Kahne, McMurray, Kyle Busch and Denny Hamlin rounded out the top-five at the finish.
Pos  Driver              Car        Laps
 1.  Kevin Harvick       Chevrolet   76
 2.  Kasey Kahne         Ford        76
 3.  Jamie McMurray      Chevrolet   76
 4.  Kyle Busch          Toyota      76
 5.  Denny Hamlin        Toyota      76
 6.  Jeff Gordon         Chevrolet   76
 7.  Joey Logano         Toyota      76
 8.  Brian Vickers       Toyota      76
 9.  Tony Stewart        Chevrolet   76
10.  Juan Montoya        Chevrolet   76
11.  Dale Earnhardt Jr   Chevrolet   76
12.  Jeff Burton         Chevrolet   76
13.  Jimmie Johnson      Chevrolet   76
14.  Ken Schrader        Toyota      76
15.  Greg Biffle         Ford        74
16.  Matt Kenseth        Ford        74
17.  Carl Edwards        Ford        74
18.  Bobby Labonte       Chevrolet   74
19.  Ryan Newman         Chevrolet   74
20.  Mark Martin         Chevrolet   74
21.  Michael Waltrip     Toyota      69
22.  John Andretti       Ford        69
23.  Kurt Busch          Dodge       32
24.  Derrike Cope        Dodge       15