Martin takes Daytona 500 pole
| | |
| --- | --- |
| By Diego Mejia | Saturday, February 6th 2010, 21:58 GMT |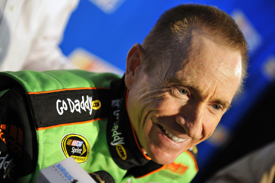 Mark Martin beat Hendrick Motorsports team-mate Dale Earnhardt Jr to pole position in qualifying for the NASCAR Sprint Cup Series season-opening Daytona 500.
The 51-year-old beat Earnhardt's benchmark by less than one tenth of a second and will start the season from pole position for the first time in his career, as he looks for an elusive first Daytona 500 win.
Martin becomes the oldest polesitter in the 61-year history of the 'Great American Race'.
"This is really special, what a way to start the season," said Martin. "It's such an accomplishment for Hendrick Motorsports, but specially the #5 and #88 shop. Dale is locked in the front row with a rocketship car. You know, he may be the man to beat come next Sunday.
"I've had a great career and had a lot of good stuff happen for me but [winning the Daytona 500] trophy would be the biggest one."
Like Martin, Earnhardt has secured his place on the front row of the grid, matching his best ever starting position for NASCAR's most popular race.
"We would have loved to have got the pole," Earnhardt said. "We had plenty of racecar but Mark and his boys just edged us out and did all the right things, made the right adjustments from that one run we had yesterday and learned from everything. We're happy to be on the front row."
Most drivers went out to qualify without too much on-track preparation as rain washed out most of the practice time on Friday.
Stewart-Haas Racing's Ryan Newman was third after initially holding on to provisional pole, which means besides the first driver to complete his run, Robby Gordon, only Hendrick Motorsports-powered Chevrolets held pole during the session. While Martin and Earnhardt's starting positions are now set, the rest of the line-up will be decided by the Gatorade Duels next Thursday.
Bill Elliott was fastest out of the 18 drivers who needed to go through the qualifying process to secure a place on the field, setting the fourth fastest time, and best among the Fords.
Juan Pablo Montoya was fifth, edging reigning champion Jimmie Johnson who set an identical time to Kurt Busch. Clint Bowyer, Kyle Busch and Jeff Gordon rounded out the top ten.
Besides Elliott another two of the non-guaranteed drivers have already secured a spot in the race. Red Bull's Scott Speed and Joe Nemechek have also joined the field for the season-opener, and their starting position will be set through the Duels.
Pos  Driver                Car        Speed    Time     Gap
 1.  Mark Martin           Chevrolet  191.188  47.074s
 2.  Dale Earnhardt Jr     Chevrolet  190.913  47.142s  + 0.068s
 3.  Ryan Newman           Chevrolet  190.577  47.225s  + 0.151s
 4.  Bill Elliott          Ford       190.573  47.226s  + 0.152s
 5.  Juan Montoya          Chevrolet  190.408  47.267s  + 0.193s
 6.  Kurt Busch            Dodge      190.359  47.279s  + 0.205s
 7.  Jimmie Johnson        Chevrolet  190.359  47.279s  + 0.205s
 8.  Clint Bowyer          Chevrolet  190.118  47.339s  + 0.265s
 9.  Kyle Busch            Toyota     190.054  47.355s  + 0.281s
10.  Jeff Gordon           Chevrolet  190.050  47.356s  + 0.282s
11.  Matt Kenseth          Ford       190.050  47.356s  + 0.282s
12.  Sam Hornish Jr        Dodge      190.050  47.356s  + 0.282s
13.  Scott Speed           Toyota     189.958  47.379s  + 0.305s
14.  Marcos Ambrose        Toyota     189.757  47.429s  + 0.355s
15.  Brad Keselowski       Dodge      189.737  47.434s  + 0.360s
16.  Joe Nemechek          Toyota     189.709  47.441s  + 0.367s
17.  Joey Logano           Toyota     189.693  47.445s  + 0.371s
18.  Bobby Labonte         Chevrolet  189.665  47.452s  + 0.378s
19.  Jamie McMurray        Chevrolet  189.593  47.470s  + 0.396s
20.  Michael Waltrip       Toyota     189.454  47.505s  + 0.431s
21.  Tony Stewart          Chevrolet  189.374  47.525s  + 0.451s
22.  David Reutimann       Toyota     189.314  47.540s  + 0.466s
23.  Paul Menard           Ford       189.294  47.545s  + 0.471s
24.  David Ragan           Ford       189.282  47.548s  + 0.474s
25.  AJ Allmendinger       Ford       189.255  47.555s  + 0.481s
26.  Carl Edwards          Ford       189.195  47.570s  + 0.496s
27.  Denny Hamlin          Toyota     189.072  47.601s  + 0.527s
28.  Kasey Kahne           Ford       189.056  47.605s  + 0.531s
29.  Mike Bliss            Chevrolet  189.052  47.606s  + 0.532s
30.  Kevin Harvick         Chevrolet  188.996  47.620s  + 0.546s
31.  Jeff Burton           Chevrolet  188.865  47.653s  + 0.579s
32.  Robby Gordon          Toyota     188.735  47.686s  + 0.612s
33.  Martin Truex Jr       Toyota     188.727  47.688s  + 0.614s
34.  Regan Smith           Chevrolet  188.699  47.695s  + 0.621s
35.  Brian Vickers         Toyota     188.628  47.713s  + 0.639s
36.  Elliott Sadler        Ford       188.533  47.737s  + 0.663s
37.  Greg Biffle           Ford       188.411  47.768s  + 0.694s
38.  Reed Sorenson         Toyota     188.391  47.773s  + 0.699s
39.  Casey Mears           Chevrolet  188.300  47.796s  + 0.722s
40.  Max Papis             Toyota     188.198  47.822s  + 0.748s
41.  David Gilliland       Toyota     187.766  47.932s  + 0.858s
42.  John Andretti         Ford       187.512  47.997s  + 0.923s
43.  Jeff Fuller           Toyota     187.363  48.035s  + 0.961s
44.  Robert Richardson Jr  Ford       187.289  48.054s  + 0.980s
45.  Travis Kvapil         Ford       187.285  48.055s  + 0.981s
46.  Aric Almirola         Chevrolet  187.278  48.057s  + 0.983s
47.  Terry Cook            Dodge      187.056  48.114s  + 1.040s
48.  Boris Said            Ford       186.908  48.152s  + 1.078s
49.  Dave Blaney           Toyota     186.254  48.321s  + 1.247s
50.  Michael McDowell      Toyota     185.923  48.407s  + 1.333s
51.  Derrike Cope          Dodge      185.040  48.638s  + 1.564s
52.  Kirk Shelmerdine      Toyota     184.407  48.805s  + 1.731s
53.  Mike Wallace          Dodge      182.678  49.267s  + 2.193s
54.  Norm Benning          Chevrolet  180.607  49.832s  + 2.758s