Johnson sure Earnhardt will improve
| | |
| --- | --- |
| By Matt Beer | Friday, February 5th 2010, 13:28 GMT |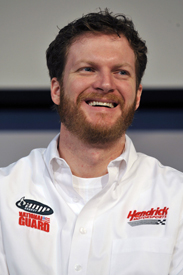 NASCAR Sprint Cup champion Jimmie Johnson is confident that his Hendrick Motorsport team-mate Dale Earnhardt Jr will be back on the pace this year thanks to a new partnership between Earnhardt and Mark Martin's crews.
Earnhardt has only taken one win since moving from family team Dale Earnhardt Inc to Hendrick at the start of 2008, and while his three team-mates Johnson, Martin and Jeff Gordon swept the top three positions in last year's championship, Earnhardt was only 25th.
Last winter team boss Rick Hendrick asked the crews on Martin and Earnhardt's cars to work together in a bid to bring the latter up to speed - a move Johnson expects to pay off.
"I think the unification between the #88 and the #5 [cars] is very good for him," Johnson said. "He looks up to Mark. He seems to respond very well to folks that have been around the sport for a long time.
"A guy I'd want to learn from would be Mark. I think he adapts to situations about as good as anyone does. Jeff has a certain style, and he's going to drive that style regardless. Mark is very good at adjusting to whatever it takes to make the car fast."
Johnson warned that Earnhardt had to be open to Martin's advice and to approaching the veteran for help.
"Mark is more than willing. Especially if Junior engages himself and asks the right questions and takes it to him, because he can't do it on his own," said Johnson.
"He's been more internal and to himself on cars, set-ups, kind of been on his own little island. If he really embraces the team-mate standpoint and is right there alongside with Mark day in and day out, they'll get it figured out.
"It may take changes in driving style, a lot of things that aren't familiar to him, but he's going have every opportunity and we're making sure he does."
Martin also believes Earnhardt will return to form in 2010.
"It's his year to take out frustrations and get the results, pound the results. I think that will happen," said Martin.
"His heart really, really, really is in it. He's incredibly driven to have the success. And his team is behind it. I think you'll see a spectacular year for him."
Johnson suspects that Earnhardt just needs a few good results to boost his confidence.
"I think that team needs to make the Chase, it needs to win a couple of races," said the four-time champion. "I know that every effort has been made. There's no one that wants it more than Junior.
"The thing that's tough for him is he left DEI and said he wants to win races and a championship. So there's no one more aware of the need for this to happen than him.
"It's been tough on him. I think his confidence has been beat down some."