Di Resta: F1 duties won't hinder DTM
| | |
| --- | --- |
| By Glenn Freeman | Thursday, February 4th 2010, 13:51 GMT |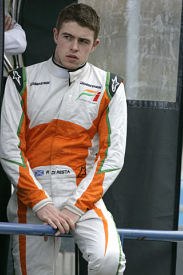 Paul di Resta is not expecting his Formula 1 third driver role with Force India to affect his performances in the DTM this season.
The Scot will combine a fourth year in the German series with his duties in F1, which will include driving for Force India during Friday practice sessions at grands prix this year.
Despite the fact that he will be switching between a single-seater and a tin-top throughout the season, the 23-year-old sees no reason why his F1 seat time will cause any problems in the DTM.
"This is a huge opportunity with Force India, and the DTM is going to keep me sharp," di Resta told AUTOSPORT. "It means I get to keep racing, so that's a bonus.
"Obviously there's a difference in the cars, but I don't think the transition will take me too long to adapt to. I'm pretty sure after doing it a couple of times I'll be able to get up to speed quickly."
Since being promoted to a top car in the DTM for the 2008 season, di Resta has finished second (2008) and third (2009) in the standings, and he insists that despite having a foot in the door in Formula 1, he is still as motivated as ever to land Mercedes' first title since 2006.
"It's not going to change my approach to the DTM, I'm still there to win it," he added. "I'll have a good team behind me again and my ambitions are still the same.
"It's going to be a very busy year, but Mercedes have been very good to me and they're behind what I want to achieve in my career, so hopefully I'll be in a good environment."