| | |
| --- | --- |
| Yamaha relaxed about rider rivalry | |
| | |
| --- | --- |
| By Matt Beer | Thursday, February 4th 2010, 02:47 GMT |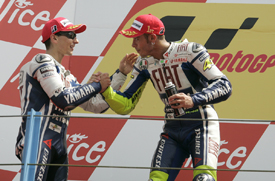 Yamaha team bosses say they have no concerns about the rivalry between joint number one riders Valentino Rossi and Jorge Lorenzo, despite Rossi's suggestions that pairing two title contenders in the same team is ultimately an unsustainable situation.
Rossi and Lorenzo enjoyed a clean fight for the 2009 MotoGP title as rivals Dani Pedrosa (Honda) and Casey Stoner (Ducati) faltered, and have had a good relationship so far. But the pair work with a dividing wall down the centre of the Yamaha garage and separate team management structures, and Rossi has hinted that he will leave Yamaha if the team retains Lorenzo beyond 2010.
Yamaha racing boss Lin Jarvis believes the two riders are mature enough to cope with another intra-team title fight if the season develops in that fashion again.
"The battle between the team-mates Jorge and Vale last year was one of the fascinations of MotoGP," said Jarvis. "I think it will be very similar in 2010. Obviously they will start the season straight away at the first race, knowing that they are two of the main candidates for the title.
"I believe we will manage it by the maturity of the riders. Luckily we have two very intelligent, mature riders, very professional and I believe that they will handle the situation as well as they did in 2009."
Team manager Davide Brivio admitted that having to fight his Yamaha stablemate Lorenzo for the title as well as rivals in other teams was a source of 'stress' for Rossi, but believes that it also inspires the world champion.
"This is not so easy to manage, for Valentino," Brivio said. "This internal competition creates even more tensions and more stress.
"I think he will face this situation with even more work and motivation. He wants to retain his number one status inside and outside Yamaha. He will put more motivation and more efforts in his challenge."
While Rossi has being outspoken over his unease at sharing number one status, Lorenzo said he was relaxed about the situation.
"I think our rivalry is not personal, but just limited to the sport area," he said. "For me it is normal: we both want to win and we are in the same team.
"Last year we had a very polite and good relationship with the media and I expect this year to be the same again."
But he added that he was keen to be given more of a say in the development of the bike - an area that Rossi has so far monopolised.
"Valentino continues to be the leader of the development of the M1 but [Yamaha boss Masao] Furusawa knows that I must start this difficult job as soon as possible, in the interest of Yamaha and mine," Lorenzo said.