Q & A with Jenson Button
| | |
| --- | --- |
| By Jonathan Noble | Wednesday, February 3rd 2010, 17:44 GMT |
Jenson Button's first run as a McLaren driver was among the most eagerly-anticipated moments of 2010's first test, and having let test driver Gary Paffett and team-mate Lewis Hamilton try the MP4-25 on Monday and Tuesday, today saw the world champion take his turn.
After a day of learning and acclimatising that ended with the fifth fastest time, Button told AUTOSPORT and the rest of the media at Valencia how the day had gone.
Q. How was the first day?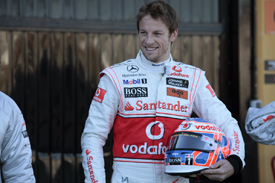 Jenson Button: It was a long day! We finished up at about 1am last night trying to get the seat right in the car. Because you obviously have it made in the mock-up, but it is always different when you get in the race car and when you get out on the circuit it is always a bit different as well to what you expected. So we have been doing a lot of work to make me comfortable in the car, initially it wasn't quite where I wanted it to be, I was sitting quite high in the car.
We have done a lot of work today and it has been really useful. In a way it would have been nice to get some more testing done, set-up work, but this test was always to get used to the environment inside the cockpit, get used to working with the team and to run through all the checks that you always do at the first test. So it has been very useful, this morning was tough though. We have had to change a lot within the car, but I fit well now which is good. I feel comfortable and have a good height in the car and that is always important for your confidence.
Q. So you are not sinking down in the cockpit and you have good visibility?
JB: No I have got good visibility now. I am nice and low which is good, I never like being too high in the cockpit. It's been good. The team have been changing things very quickly which has been important today. This afternoon we have been able to do some laps which has allowed me to get used to all the systems in the car and dealing with my engineer, working with him while I am on the circuit, and also in the pits. So it has been a very useful day.
Q. What can we read into the times?
JB: I haven't seen the times. I don't know.
Q. All three days Ferrari have been quickest and Sauber have been next. Does that set a benchmark for the season?
JB: I think you can say that Ferrari are fast, but we don't know how fast. They can't do that time if they are not competitive, but you never know what fuel they are running when they do that time. Their slower runs, which I'm guessing were using a lot higher fuel, were still reasonably good so I guess they are fast.
But this is the wrong place for us to be thinking about who is quick and who isn't. I'm guessing everyone is going to be having updates for the first race anyway and with the difference in fuel loads, you could be running 10 kilos or 160 kilos, so there is a massive difference and it is difficult to read into it.
I think at the next test we might have more of an understanding when people are running very different fuel loads, and you can get an understanding of the difference of those loads and how much time per 10 kilos it is. Then you can work out who is quick and who isn't. But at the moment it is important for us to put our blinkers on and work with our car and improve it.
Q. What is the difference in balance of the car between low and high fuel? Does the car change a lot?
JB: It does. I haven't really done much running so I can't say too much, but it will always change the car balance and that is something you have got to work on because during the race you are obviously going to be going from 170 to zero fuel so the balance is going to be changing a lot. So it is important to have as much equipment to deal with that, within the car for example the diff and throttle maps and so on.
Q. How does it feel to have the number one on your car?
JB: It looks great when you get in, but when you are actually in the car you don't think about it. It's always nice walking into the garage and seeing your name and the number one on the car but when you get down to business and you close your visor you don't think about the number.
Q. The McLaren seems to be very long compared to the Mercedes, could you feel it compared to the Brawn in the slow corners?
JB: You can't, no. I don't think it's right to compare it to last year's car. They have changed a lot since last year, especially with the smaller front tyres. But the Ferrari looks long as well. The Renault and the Williams look tiny - that looks the smallest car. So it's interesting that people have tried different lengths of cars. I think that's to do with the fuel tank but also other aero things I am sure.
When I saw the car initially I thought it was quite long, but when you see it on circuit, it doesn't look long and it also doesn't feel like a long-wheelbase car. And long-wheelbase cars seem to be working quite well if you look at the Ferrari's times and the Sauber's times and also what Lewis did yesterday.
Q. Last year your gut reaction to the Brawn was that this was a mega car that you could really do something with – what was your equivalent reaction this time around?
JB: Well it's difficult because first of all this is not the best circuit to get a feeling for how the car is going to be at the start of the season – because it is very different to any other circuit we race on so the balance is very different.
But today it's been a busy day of finding my way around the cockpit. Because at Brawn it was pretty much the same seat, everything worked the same inside the car and it was also the same in the way the car worked. There is a lot more to get your head around here and to work on before I would comment on anything like that. From Lewis's comments yesterday he is happy, we all want more. That's the way we are, but we have a good base to work with.