Q & A with Michael Schumacher
| | |
| --- | --- |
| By Edd Straw | Wednesday, February 3rd 2010, 16:01 GMT |
After sharing the Mercedes W01 with Nico Rosberg on Monday, Michael Schumacher had his first full day of running since returning to Formula 1 at Valencia today.
His session was slightly truncated by a hydraulic leak, and Mercedes remained off the pace set by the so far dominant Ferrari team, but Schumacher told the assembled media - including AUTOSPORT - that he was content with progress so far and pleased with how he had reacclimatised to F1 life.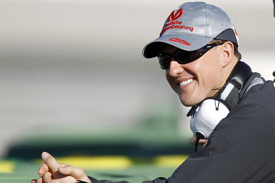 Q. Are you happy?
Michael Schumacher: Yes, I'm really happy. I had a good first day, with a rather short run on Monday. Today we had a full day. A little hydraulic leak has stopped us right now. But all in all, very positive feedback. The car is running very smoothly, very nicely. I'm very positive.
Q. Ross Brawn has praised your feedback, have you suggested any improvements?
MS: That's what I'm here for.
Q. This is the first season since 1999 with four world champions in the field, but do you think the field is stronger this season?
MS: I think so, yeah. Due to the fact that you have very high quality drivers around in very competitive cars, it will make the season very exciting.
Q. How would you judge the test?
MS: Basically I'm feeling quite good. The main focus right now is to look at the reliability, do as many laps as you can, and don't worry too much about the lap times. I guess you look at them, but you need to focus.
Q. What do you think of Ferrari's pace?
MS: They're very strong. It's nice to see them back in action.
Q. After so many years, are you able to know if this is a winning car?
MS: No, I'm not able to say this. I'm thinking we will be competitive, but whether this is a winning car straightaway or not, that's another story. For me that's not so important - it's a long season. We need to be there and taking points from the beginning.
I wouldn't expect to be winning right from the beginning. It wasn't something that I was aiming for and expecting to be the case. But we need to be strong enough on development.
Q. Is it still fun to be driving an F1 car?
MS: Absolutely.
Q. Ross said it's like old times working with you, do you feel the same?
MS: Yeah, it is indeed. I feel fresh and good and motivated. Knowing each other so well makes things very easy.
Q. Is there anything that's been harder than you anticipated?
MS: Actually it's been much easier than I anticipated. I thought it would need a bit more time but it went pretty quickly.
Q. How do you feel being on track with two other world champions?
MS: Honestly it's not important what they have in their records in the past, it's important what they will do in the future.
Q. Are you still anxious before going to the track?
MS: I'm always excited, that is the case. As you can imagine after three years, it's a new challenge and a new experience. A new team and a different environment. There are lots of interesting things that I'm experiencing, and they are good fun.
Q. Did anything disturb your sleep?
MS: No, I slept really well. Even when engines were running and generators are running, I slept like a little baby. So it's good.