Booth pleased Virgin ahead of schedule
| | |
| --- | --- |
| By Matt Beer | Wednesday, February 3rd 2010, 11:41 GMT |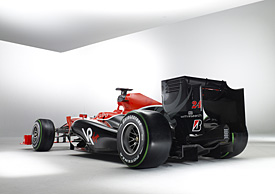 Virgin Racing team principal John Booth says he is thrilled that the squad's new VR-01 will be ready to test a week earlier than originally planned.
The car was revealed on the team's website this morning and will join next week's group test at Jerez after a shakedown at Silverstone tomorrow and Friday.
"It was always intended that we would miss the first all-team test in Valencia this week and very early on we targeted the second Jerez test in two weeks' time for our public testing debut," said Booth.
"It is a testament to our methodical approach and the sheer hard work of the team that we are heading to Spain a week earlier than planned to take part in the first Jerez test next week."
The Virgin car has been designed and constructed by Nick Wirth's Wirth Research firm, but will be operated from Booth's Yorkshire premises. The team boss said the collaboration between the two organisations had been extremely smooth so far.
"I have always had the utmost confidence in Nick to design a good race car, just as he has the faith in the race team to make a good job of operating it," Booth said.
"Having worked closely with the technical team over the past 10 months, I know that the VR-01 is the product of a very intensive and thorough design and development process and my excitement at seeing our first race car make its track debut later this week is shared by every single person involved with Virgin Racing.
"I would like to congratulate our new race team - a great bunch of guys working together for the very first time in the pressure-cooker environment of a demanding car build schedule.
"Logistically it hasn't been easy, since the initial build of the two race cars is taking place in Bicester, rather than our operational base in Dinnington. Their commitment and professionalism has been exemplary and they have set their own very high bar in terms of trackside performance this season.
"Finally, not only do we have a great bunch of people at Virgin Racing, we also have a great-looking car. We are delighted with our fantastic new livery which provides a fitting integration of our racing brand with our important commercial partnerships. All in all, we have a lot to look forward to as we progress towards our racing debut in Bahrain next month."