New IRL CEO Bernard will 'learn fast'
| | |
| --- | --- |
| By Matt Beer | Wednesday, February 3rd 2010, 11:29 GMT |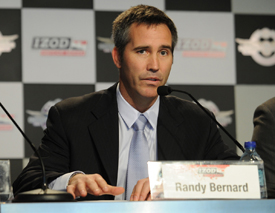 New IndyCar Series CEO Randy Bernard has pledged to immerse himself in American open wheel racing's history and culture, and is confident he can still take the sport forward despite being new to the championship at present.
Bernard has joined the Indy Racing League to oversee IndyCar and Indy Lights having run the Professional Bull Riders organisation for the past 15 years.
"I need to learn the rich culture and tradition of Indy racing," Bernard admitted.
"I will spend hours in the Hall of Fame. I will want to spend hours with past champions that will give me insight, and I will also want to spend a lot of time with fans. I want to hear their input. I want to see what they think of the sport."
He pointed out that he had had to learn from scratch when he started out with bullriding.
"The PBR started with 20 men that had a vision," Bernard said. "They all put up $1,000 each. From that, in 1994, they had eight events. Today, they'll have over 400 events. Their total sponsorship back then was $360,000. Today it will be over $26 million.
"We'll produce events in Australia, Brazil, Canada and Mexico. The PBR will also be broadcasting over 80 countries around the world.
"I say this because I started back then as the only employee with the PBR that they had. Today we have 120. I had to learn from the ground up. I had to learn television. I had to learn marketing. Promotion. There wasn't one facet of the sport that I didn't have to learn first-hand."
He is confident that the arrival of clothing firm IZOD as title sponsor of the IndyCar Series has given it momentum despite the current difficult economic conditions and American single seater racing's loss of profile during the IndyCar/Champ Car split.
"When I was approached by the Hulman-George family about this position, I really wasn't sure," Bernard said. "But when I started doing my research and saw how much opportunity this sport has, I knew it was a great opportunity for me.
"I started flying around doing some due diligence. One of the people I had met with was IZOD. I was blown away with how much research and how much they're going to promote this great sport.
"In doing my due diligence, that was one of the things that really tipped the scale when you can go into their office in New York and see the vision and their plan on how they're going to promote this and how they're going to do it in a way that's going to create a great image for open wheel racing and the Indy Racing League."
Bernard added that he just wanted to be judged on his achievements - vowing to increase IndyCar's television ratings and its spectator attendance.
"I'm not going to try to come here and pretend that I'm going to become an open wheel racing expert in one year or two years," he said. "I'm sure that's not going to happen.
"But what I'm going to tell you [is] I'll market the sport the very best we can. If we can't fit more people in those seats and the ratings don't go up, then I would say I didn't do my job."