Q & A with Kamui Kobayashi
| | |
| --- | --- |
| By Edd Straw | Wednesday, February 3rd 2010, 09:55 GMT |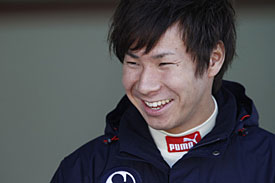 Kamui Kobayashi enjoyed a positive start to his 2010 campaign, setting the second fastest time in testing at Valencia, on his first day as a BMW Sauber driver.
The Japanese 23 year old talked afterwards about his impressions of the new C25, why there is more to come from him, and why it is far too early to speculate on the pace of the Swiss team in 2010. AUTOSPORT was there to hear what he had to say.
Q. How was your first day in the Sauber?
Kamui Kobayashi: It has been a really great start for us and we had no problems with the car. It was the first day for me and there was a really good feeling with the car. It's difficult to say where we are, the result was a quite good lap time, but with new rules and another team like Red Bull still to come it's difficult to say where we are. But it was a really good start.
Q. Are you comfortable in the car?
KK: Really comfortable. There are a lot of new switches for me because last year the Toyota had a different steering wheel and it is still confusing, but I just have to get used to it. The driving position was good. At the moment, I just need more days to improve myself.
Q. It's too early to say how good the car is, but can you rule out that it is bad?
KK: I don't think that there are problems. It is important that the car is good, but we have to work hard in the test to improve the car. We have to take this opportunity and focus on improving for the next test.
Q. How has working with the team been?
KK: Of course, it's a different nationality and different style. But the way of working is the same. Everyone has the same targets - we want to win - and we have to keep improving and develop the car. Language is different – Swiss-German – but for another example when we did briefings there is a different style of talking. In Toyota we were always using headsets, but here we weren't. That's different, but what we do is the same.
Q. Did you feel any difference with the narrower front tyres?
KK: I didn't really feel a big difference. I drove here a long time ago in Formula Renault but that was five years ago and I have no point of reference.
Q. How easy did you find it adapting to different fuel loads?
KK: There are big differences and we just need to find a good setup. It was my first day and good experience.
Q. Were you happy with the long-run consistency?
KK: I still have to improve and there are many things I can do to get consistent lap times. I know I can do it because last year in Abu Dhabi my lap times were really consistent but I just need to get confidence in the car.
Q. The lap times were faster in the morning – was that down to track conditions or the programme you were on?
KK: Everybody had the same problem. The morning session was pretty fast and it was difficult to improve later. I was quite surprised because I last drove this track five years ago and I'd never driven this car before but I did my best time in 20 or so laps. After three months off from Formula 1, that means I must have done quite good training in winter!
Q. Do you feel tired?
KK: No, it's ok. This track is not a really hard track.
Q. With the 2010 cars do you think overtaking will be easier – you spent some laps behind Robert Kubica?
KK: It's difficult to say because during testing we never overtake. At this track, it's much more difficult but we can run close. If we go somewhere like Abu Dhabi maybe there will be more overtaking – it depends on what track we go to. If there is a long straight, anyone can overtake.
Q. Could you feel much difference between the Ferrari engine and the Toyota engine you had last year?
KK: It's difficult to compare because it's a different car, different tyre and new track because I never drove Valencia in a Toyota.
Q. How are you going to prepare for the tracks you don't know?
KK: I know Valencia very well because I drove here many times when I was in Formula Renault. But when I drove a Formula 1 car here for the first time it was really different because of the speed and the track was much smaller! When I was at Toyota I could use the simulator, but Sauber has no simulator at the moment so I can watch onboard footage.