New McLaren gets Hamilton excited
| | |
| --- | --- |
| By Jonathan Noble and Pablo Elizalde | Tuesday, February 2nd 2010, 17:25 GMT |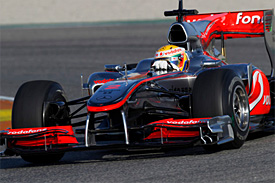 Lewis Hamilton says there is a "night and day difference" between this and last year's McLaren following his first day at the wheel of the MP4-25.
Hamilton took over from test driver Gary Paffett today and managed 108 laps on his way to the third quickest time of the day in his first outing with the new car.
After having struggled with last year's MP4-24 in winter testing and during the first half of the season, Hamilton was delighted to see the new car has not inherited the problems of its predecessor.
"It was a night and day difference and feeling compared to the first lap and the first test day in 2009," Hamilton told reporters at the end of the day.
"I have a positive feeling. I've obviously kept a close eye on the development of the car and the results we got at the end of 2009 - so seeing this car evolve and having the input into it, I was very excited to get in the car today to see what parts we have improved.
"Hopefully we would have got rid of a lot of the bugs that we had in the previous car.
"So I got in today and it felt good. I got out smiling and all the problems I had generally with the last car I didn't have with this one. There are still of areas we can improve on."
Asked if the day had done exactly as he would have hoped for, he said. "For me? Absolutely. It has gone well.
"Obviously the Ferrari seems very quick, and so does the Sauber. But we don't want fuel loads everyone else was on. We felt quite comfortable with what we were doing, but there is quite a bit of time we need to find."
The 2008 world champion was cautious, however, when asked if the car would be a title contender, as he reckons it's still too early to know where the opposition is.
"It is too early days to really say. I do feel that it is a huge improvement from the beginning of 2009. Therefore I don't feel we are two or three seconds behind. So the progress we will make from here to the last test and the first race, hopefully we can do as good job as we did at the beginning of 2009.
"But hopefully we will be competing. At the moment we were third – so we are not last, which is a nice feeling."