Q & A with Robert Kubica
| | |
| --- | --- |
| By Jonathan Noble | Monday, February 1st 2010, 21:06 GMT |
Just 24 hours after he caught glimpse of his new car for the first time, Robert Kubica got down to work with Renault at the first Formula 1 pre-season test.

And although he ended the day at the bottom of the timesheets, the Pole was pretty upbeat about his first impressions of what the Enstone-based team had produced.
He concedes that there is work to do, but with fuel loads so variable this year, he reckoned the timesheets did not tell the true story of his day.
AUTOSPORT was there to hear what he had to say as he spoke to reporters on Monday evening.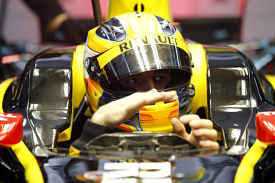 Q. First day. How was it?
Robert Kubica: Finally back into the car, I think it was a long time and all the drivers were looking forward to today. It was a quite exciting day of course for the new cars. Everybody is looking forward.
Having done a lot of work during the winter, all the mechanics and engineers on the first day are with their new car like it's a new toy or a new baby. It was quite a good day. The priority was just to put mileage on the car, do final checks reliability wise and check the functionality of the components. We made it smoothly without any problems, so that's good.
Q. How comfortable are you in the car?
RK: Everything is quite ok. Of course there are some modifications. You can spend many days in the factory fine-tuning, but while driving you always discover new things.
There are many things different so we have to make sure we find the best compromise between what I am used to and what the team is running. Everybody is working really hard to make me feel good in the car and I am quite happy.
Q. Are the narrower tyres and longer cars noticeable on track?
RK: Today confirmed what I knew already from the Jerez test last year where I tested with narrower tyres. For me it's difficult to judge because I'm driving a completely different car in a different team, so it's very difficult to pick up the difference. But I think it's much easier to overload them because there's less surface on the asphalt. In the high-speed the tendancy is to have more understeer. In the moment the tyre is giving away more in the past.
Q. Can you give any indication of the performance potential after today?
RK: It was not a day to test performance, but the car feels quite good to drive, quite easy. Of course, feeling-wise it's very important at the beginning, but there are a few things to be cured in my driving from the way I was used to. Confidence is there, I found some very positive things in this package, which makes my life much easier. Some things we need to tune but I think we are on the right way.
Q. How much fuel did you carry?
RK: I think I have never run so heavy in my life.
Q. Does that account for the laptimes?
RK: I don't care about the times really. The priority for today was completely different. Testing is not to be on the top of the list - of course it was better because it means the performance is there - but this year I think we will see the gaps much bigger. Last year maximum fuel load was 60-70kg so if someone was light the difference was about 30kg. This year you can find some cars running 30kg and some 150kg, which makes the gaps much bigger. It's important to be where we should be when it counts, in Bahrain.
Q. How did you find the first day working with the team on the track?
RK: I am quite happy with where I ended up. It has convinced me today that there are many people really trying to make me stay comfortable in the car. They put a lot of effort in to find the best way and I hope we will go through all season like this. It's always a good feeling for a driver when you see people giving the maximum and trying everything to help you.
Q. Were you expecting Schumacher to be straight on the pace today?
RK: Why not? It's a seven-time world champion. If not the best driver in the history, one of the best. It's kind of normal, he's driven GP2 so he wasn't stopped. He was doing quite a lot I think. I think he feels now finally at home in the car, I reckon.