Q & A with Pedro de la Rosa
| | |
| --- | --- |
| By Edd Straw | Monday, February 1st 2010, 19:20 GMT |
Pedro de la Rosa took the new BMW Sauber to the track for the first time at Valencia today, and set the second fastest time behind Felipe Massa's Ferrari.
Despite BMW's withdrawal from the team, de la Rosa is confident that the Sauber team has produced a good car for 2010. He gave his feedback to the media at the end of the day's running.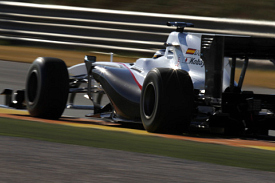 Q. How did today's testing go?
Pedro de la Rosa: It was very good. The first day is always an interesting one, but it is not a day to take any conclusions from the results. I am happy about myself, about my new team and the new car. I felt that I adapted a lot quicker than I expected because I was expecting to get up to speed very slowly, but I felt immediately that I was driving the car quite well. I'm happy about that, but a little bit tired because I have not been in the car for a year and you should not underestimate how tough a Formula 1 car is to drive.
Q. Have you managed to get rid of the rust?
PdlR: Today, I took an awful lot of rust away. I am sure that when we change circuit or the conditions there will still be some left but I must say it took me very few laps to get me back to playing with the car in the corners and feeling the rear end moving and feeling that I was driving to my limit.
Q. Are you comfortable in the car?
PdlR: There are only a couple of minor changes in the seat to be done so I am very happy.
Q. Does this car feel stable with the long wheelbase?
PdlR: I feel like it was pretty stable. I felt the car had a good base, it was nice to drive, easy and this is always a good beginning. There are always things to change, but it's a start and I feel that we are in the right position.
Q. Did the long wheelbase make it feel any different?
PdlR: No. It was very similar. It might look long, but actually when you drive in the low-speed corners you didn't feel that the car wasn't agile.
Q. Did you have any problems today?
PdlR: We wanted to do 70 laps and we have done around that today. We had no issues. The biggest issue is maybe to tweak my seat a little bit.
Q. How much of a difference is the narrower tyre?
PdlR: I felt that it was smaller than I anticipated and the car balance was not very much affected. It was a change, but at a circuit like Valencia where the contact patch of tyre is so important and there are so many low speed corners, I was expecting something bigger.
Q. For years you have driven Mercedes engines, now you have a Ferrari. How big is the difference?
PdlR: They are both good. Now we need to work on fuel consumption - not only the engine manufacturers but the drivers. That is what is going to win or lose races.
Q. How did you find the different tyre compounds?
PdlR: We only ran one – the soft. Today was to try different fuel levels just to feel the difference in balance and handling and to get used to working with the new team.
Q. Did you try with full tanks?
PdlR: We were thereabouts.
Q. How about working with your new engineer?
PdlR: It's good. They are very experienced guys here. I don't know why, but I just feel like I've been here for a longer time. Today was very relaxed. Maybe it's because I've been in different teams and situations, but I am happy with the way that I am approaching a new team. I'm spending as much time as I can with them in Switzerland so maybe that has given me a bit more confidence that I have been working with these guys for longer.
Q. You got on the pace right away. Does that mean anything, or can you not judge because it's the first day?
PdlR: The times don't mean much. I'm more happy about the fact that the car is easy to drive and stable through the corners. There is nothing that is upsetting the car balance. That is what I am happy about. Once you have a good starting point, you can build on it. Laptimes with the fuel tanks we are running, it's really difficult to read anything into that.