Rosberg positive after maiden W01 test
| | |
| --- | --- |
| By Jonathan Noble | Monday, February 1st 2010, 14:43 GMT |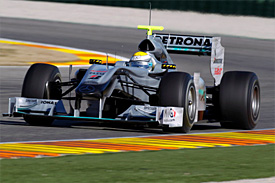 Nico Rosberg gave an early thumbs-up to his new Mercedes GP W01 after a first taste at Valencia on Monday - but admitted that new regulations have made it much harder to read the true picture from testing.
The German completed 39 laps in his new 2010 car on the opening day of action in Valencia, before handing the machine over to team-mate Michael Schumacher.
And although Rosberg feels that the heavier fuel loads used this year will cloud the picture in testing, he says he is encouraged by how his first experience of the car and team went.
"The first impressions of the car were very positive," he told media inside the Mercedes GP motorhome.
"It felt great - although it is difficult to compare because there are so many things different with the fuel, the tyres and the fuel levels you are running in testing, plus we haven't run on this track for a long time. So it is very difficult to compare.
"In recent years you would have had a better impression. But now, since with the fuel level, you don't really know what other people are running either.
"It used to be in testing that everyone put 50kg or 60kg, but now you don't know what everyone is doing. It is very difficult to get a good initial impression."
When asked if he could sense it was a car built by a championship-winning team, he said: "It felt good, yes. But it is impossible today. There are so many new circumstances that I cannot feel, is it a winner or is it not a winner? It generally felt very good but it is impossible to be sure how the performance is now."
Beyond the overall performance of the car, Rosberg said he was also encouraged by how comfortable he felt in his new environment on his first day on official duty.
"That is a question that I was asking myself – after four years with one car, the same people always building it, you wonder how is it going to be [with a new team]? Do you feel comfortable straight away or not?" he said.
"To be honest, it felt very similar which was a very nice feeling. All the position I am sitting in there, the steering load, the way the steering feels, the power from the engine, everything is different – but I really felt at home quickly, which was good. It was very similar to what I am used to, in everything."
And with huge interest surrounding team-mate Schumacher, Rosberg admitted that his own efforts had moved up a gear because of the man he was working alongside.
"For me, it is a great thing to have him there," he said. "It is fantastic, and it has given me a little bit extra motivation I must say. Just that little touch extra, to have him there, which is a good thing."