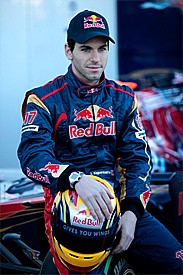 Jaime Alguersuari endured a fairly turbulent 2009 - after being thrust onto the Formula 1 grid in Hungary despite having had no proper testing experience.
The Spaniard readily admitted that all he could do was treat the races as extended tests - before using this winter to prepare himself properly.
On Monday at Valencia, Alguersuari spoke to the press about his hopes for the year, his thoughts on Michael Schumacher's return and why he thinks the idea of F1 testing academies is a good one. AUTOSPORT was there to hear what he had to say.
Q. How much of a help has it been to have a whole winter to prepare, rather than getting dumped into it in Hungary and having the races rush at you?
Jaime Alguersuari: Well definitely this year is going to be much longer than last year. At least we have time to prepare for the season. We had a long winter because we had big training - in Austria and Spain. We had some time to prepare, and we still have time to get ready for the season. So, this does not mean it will be easier than last year, because F1 is always tough, but I do believe that things will become different, we will be more competitive and we will be ready for F1.
Last year everything was so fast, and I didn't know the car, didn't know the circuits and didn't know anything, so this year should be much better for me.
Q. Some of the people last year when you made your debut described you as the most dangerous man in F1 because you had had no running. How do you react to comments like that?
JA: I don't know, to be honest - and coming from other people I don't really care. I just care about the comments of my team, and of me, because it is just me who is racing. So far, I believe that the comments from the other drivers are not so important for me. I don't care what they say - especially in Hungary. I guess, though, the situation was clear. I was obviously a new driver, had no experience, and it was normal that they could see me in a dangerous situation because I had no experience, I had nothing with an F1 car.
Q. And you hadn't done anything dangerous, had you?
JA: No. Not just that, but I understood the comments from the other drivers. I think it was fair enough to make me fast and make me think about my future.
Q. Why did it take so long for you to be confirmed by the team for this year, because it was clear early on that you were here for the long-term?
JA: I don't really know. After Abu Dhabi when we finished the championship the situation was clear for me. I had to have a big training during the winter until the first race, so I was a Red Bull driver. My contract was with Red Bull, and everything was fixed. But I don't know, maybe personal things - I don't know what happened to make it take that long, but I was completely sure that it was going to be like this. There was no possibility for it to be in a different way, to be honest. Otherwise, it was stupid because I was so young and I've been in Red Bull since I was 15, so it was not making sense.
Q. There are two initiatives now to offer young drivers F1 testing opportunities - one by Stefan GP and the other by Anthony Hamilton. Are they important considering your background?
JA: Definitely, yes. Definitely it helps. F1 is always F1, and the more testing you have the better you are. I think it is a bit like road cycling - the more you take the bike the better and the stronger you are. So I think it is always good to test the F1 car, and to have the opportunity to drive it. For me last year it was not like this - so I had to do everything different during the race weekend. I think it is important and I think it is positive, for sure.
Q. But isn't it something that the sport itself should be doing?
JA: I don't really know because F1 has changed a lot during the years - and you probably know better than me. I have been here since last year. F1 is now different. We have much less testing. For me, and for young drivers, it is not nice to test this much - which is nothing - before the first race. At least we have seven or eight days, which is not that bad. Last year I had none.
So for my first day, Wednesday, that is going to be the first F1 test of my life. So, I don't know what to say. I think it should change for sure. It should be good for everyone to have more testing, and not just young drivers - but to improve the teams and to improve the cars. Maybe there is an economic limitation, but I guess if we could deal with it, it would be good for everyone.
Q. As the youngest driver in F1 history, what is it like for you to race against an old man like Michael Schumacher?
JA: I think it is nice. Michael's return made everything stronger and everyone more motivated. Michael is not just the number one in F1 - for me he is also someone to follow after F1. In his personal life, he is a professional athlete, and that is really nice from his perspective. It is also nice that he could come back, but he is also just one more driver on the track. It is the same respect that we have to have for every driver.
Q. Do the regulations this year, with no refuelling, provide a benefit for the experienced drivers?
JA: Yes, it is difficult to say now because we need to test. We need to see how the car is and how the others are. Regarding the fuel, we have to see how the car is balanced. Last year the car was difficult because if you put the same load of fuel that we have this year, it would not be possible.
So definitely this year will be tough to drive a very full tanked car. This is why we have prepared for this, prepared the car to run with a very high fuel load. So, we will see how it works. Definitely it will be tough for everyone, not just young drivers but also the experienced one. That is why we are testing here.
Q. Do you find it extraordinary that you have done eight races now but have yet to do an F1 test?
JA: Wednesday will be my first test on the track! Last year, every race, every Friday practice, every qualifying, was a test for me. There were 19 cars racing last year and one was testing. For me, a race was a test, and I could not compete against the others because I was at such a disadvantage.
I didn't know how to manage the car with a full tank load. So this year, now, on the test normally you do 450-500 kilometres. The most mileage I did last year was on a Friday, when I did around 300km. So this also, for the physical and psychological side, it is always nice to do long runs, and to experience the car.
Q. Now that you are actually going to be able to race, do your expectations raise?
JA: Definitely. This year, I am in a different position to last year - so we cannot compare. For sure the goals and the objectives are different. Also my expectations on my team and from outside are different, definitely.
Q. You've talked about Schumacher being a role model on the track and off it. What regard do you pay to the things he did in his career, like parking it in qualifying in Monaco and forcing Rubens Barrichello to finish second in 2002?
JA: It is difficult to say because for me Michael is a reference for everyone. He is a good reference, but he is still human. Everyone can make mistakes, and everyone can make a crash - or go off the track. The one who makes the fewer mistakes is the best, and Michael is one of them.
When I said Michael was a reference for F1, I did not say specifically on the technical or driving side. He is a man that went out of F1, he took the bike - and he tried to ride the bike and tried to be fast on the bike. He took a go-kart, he tried to be fast and he competes. This is the kind of lifestyle that a driver needs - not just F1. This is what I said last year, when I arrived in F1 I said I would continue in the World Series, because I love cars. I did karts, I did the world championship last year. And I love it. This is my passion and hopefully I can race some other things as well this year. This is what motorsport is made of, and that is what I really appreciate on Michael's side.
Q. How do you treat the big names like Schumacher, Button, Hamilton and Alonso? Are they just another driver to you?
JA: Last year was the same, even in Hungary, when I had no experience. They were just another driver. It is a different category, F1 is the top, but there are just more drivers on the track.
Q. What did you think of your new car?
JA: I've been working for the last weeks on the seat at Faenza. I know that the new car looks very nice from the outside. On the inside I also think it is quite good. The basis is quite similar to last year's car, but obviously it is longer and the tank is bigger. I think we will have a good year really.
We drivers are better on the performance and technical side, but all of the team have done the best job so far during this winter. I think we are happy for the moment. We need to see how we are in the testing. We need to see who is fast and who is not, and what the expectations for us are. Then we will see how it will be during the season. Not is a bit too soon to be saying something.
Q. What impact will the new formula have on the racing this year?
JA: Definitely on the spectator side it will be awesome. We will see closer racing, and there won't be so much strategy despite the tyre changes. But I think it will be fairer to everyone, because you go to qualifying with 20kg of fuel. Everyone will have the same conditions, so the one who is fastest is the real fastest - not like last year where you could manage the fuel to beat him later. We will see more real racing this year, I am sure.
Regarding the races, they will be tougher than last year - on the physical side and also on the technical side because with the fuel tank you are much slower and you also need to fight more the car. It will be tougher to race, and tougher to drive. You need to be more concentrated - and you will feel more of that from the driver side.
Access even more news on Autosport.
Register for free to increase your monthly limit from 15 to 25 stories - or subscribe today and get unlimited access.
Get unlimited news
Full access to our news and in-depth Autosport Plus features - all in an ad-free enviroment.
Subscribe to Autosport Plus
Get 10 free extra stories
A quick upgrade and you'll boost your monthly news limit instantly - for free.
Register for free