Q & A with Robert Kubica
| | |
| --- | --- |
| By Jonathan Noble | Sunday, January 31st 2010, 19:01 GMT |
Robert Kubica starts a new era as a Renault driver after three years with BMW Sauber.
AUTOSPORT heard from the Pole at the launch of the French squad's new car.
Q. The team now is very different from the one he signed for at the end of last year. What are his feelings about the shape the team is in heading into 2010?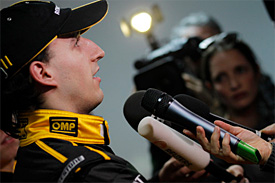 Robert Kubica: There have been quite a lot of changes during the winter. Not many, but a few very significant. But after a bit of uncertain days we quite liked the approach of the new owners of the team, and the way the team will approach the season, so it was quite easy, especially as I visited the factory a few times during the winter and I liked the way the team works and how everything looks.
I'm not saying facilities wise, but how the people approach racing. I think we have quite a lot of commons goals in the way we see how we should approach this season.
Q. Was it a big shock to hear about the doubts over Renault's future?
RK: You can see that during the winter many things happened and there were many uncertain things. The general feeling was always good and I never had to worry about the possibility of leaving Renault, which didn't happen. In Abu Dhabi I found a funny story from journalist who said Renault will retire, why don't you sign with Toyota?
Q. Will it be hard for you not to fight just not for the championship but for race victories?
RK: And who do you think will fight on top? You know already? Who says we are not going to be there? To be honest I think it's very difficult to judge where we will be standing. There's everything to discover. Of course there are names like Ferrari, McLaren and maybe Red Bull, maybe Mercedes, but you never know.
Everything has to be discovered and I think after the end of February we will have a bit more of an idea. We have quite a good programme to improve the car in February and that's for sure what will have a big effect on our performance.
Q. Any thoughts on your new team-mate?
RK: To be honest I'm not surprised that the driver who finished second in GP2 is coming to Formula 1. I think many people forget what he did in GP2, and many people just look at where he is coming from, and that he might attract some sponsors with him, which is normal because there are more drivers who are doing it and there are drivers who have achieved a lot less in GP2 that are doing a good job in Formula 1. I think he will do a good job. For sure it will not be easy for him.
Q. You were the first Polish driver in F1. He's the first Russian. Are you able to give him any advice on how to cope with the kind of pressure that brings?
RK: I think it depends on your character and how you approach racing and how you look at those things that are happening back home. I think it's a bit different also because I joined Formula 1 in a different way. To be honest I think until I signed with BMW Sauber as a test driver no one believed I could do well in Formula 1.
I think with Vitaly is different as his way was built up to join Formula 1, so it's a completely different approach. I don't know what he's thinking about it, so you better ask him.
Q. How confident are you that this team can give you a long-term prospective of fighting at the top?
RK: I hope they will give me quick prospective of fighting at the top, not the long one. As I said, I'm quite confident in the people we have. Of course it might take time. I don't know how long. As always, from my experience you can never be 100 per cent sure that in the end you will achieve what you are targeting. What is 100 per cent sure is that we'll give it all to extract the maximum from the car and try to improve the performance as much as possible during the year.
Q. After a year with not so good results, what's your aim for this year?
RK: Personally like always, try to give the maximum from myself and extract the maximum from the car and from the package.
Q. Last year the Renault engine was not the strongest, but maybe the best in fuel consumption. How do you think it will work this year?
RK: Of course I have no experience as I didn't drive the Renault engine, so I cannot judge power wise, and I think it's easy to misread information. There are many things that have a big influence on the power performance of the engine. One important thing is the fuel consumption of the Renault engine which has been very, very good for a couple of year already. And we hope to keep it, even improve it.
It will not be easy, but for sure in the race it might have a strong effect. Unfortunately qualifying will be with an empty car. If it was with a heavy car it would be a much bigger advantage for us. We don't know about the other teams so it's difficult to judge if we still have this advantage or not.
Q. Do you think the team has the technical structure and the finance to catch the top teams?
RK: I think money is not everything. The team is well placed and there is a comfort. We have enough money to do our job and that's the most important thing for the start. But once the people start working on the season I think money is not everything. We have seen it with different teams in the past.
Of course it can help because you might have more room for development if you don't get it right the first time. But we have seen in the past that teams who are winning do not always have the biggest budget.
Q. Which impact is Michael Schumacher's comeback going to have in Formula 1?
RK: It will have a very big impact in Germany and in the fans worldwide, as they may go back to watching races now he's back. I think it's a good thing to have him back on the grid. It will be for sure one of many drivers we would like to beat.