Button 'more excited than ever before'
| | |
| --- | --- |
| By Jonathan Noble and Pablo Elizalde | Friday, January 29th 2010, 13:19 GMT |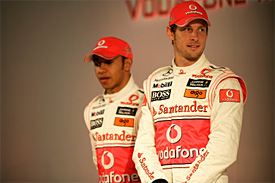 World champion Jenson Button says he has never been so excited ahead of the start of a Formula 1 season as he is now he has joined McLaren.
The Briton took the title with he Brawn GP team last year but decided to move to McLaren to start a new challenge alongside Lewis Hamilton.
"It's been a very busy January to make sure that I really feel a part of this team," Button told reporters during the launch of the new McLaren.
"Moving to a new team is always difficult and it's a big change and we struggle with change a little bit. But they really have welcomed me and it's been a really good atmosphere. It's nice to finally see the car as one whole piece.
"I'm looking forward to the season. We don't want to get too carried away yet. We have a lot of testing in front of us, a lot of hard work before we get to the first race.
"I'm excited, the most excited I've every been coming into a season. It's a massive challenge for me and one I'm really looking forward to."
The world champion admits his move to McLaren has been a big push for his motivation, and says he is working flat out to make sure he's fully adapted to the team for the first race.
"When you win the championship you have achieved your dream and your initial goal, and after that I was thinking where do I go from here? The decision was to move to McLaren, and take up this new challenge," he added.
"It has really spurred me on, I go into this season so much more excited than any other season I've been in Formula 1.
"I've become a much stronger person and stronger driver with what happened last year. I'm working with the team already. There are some areas that I've never really worked on before.
"When we get to the first race I'm gonna make sure I'm 100 per cent ready. I don't want any excuses. The first race in Bahrain is a race I'm looking to be competitive in."
And Button insists it is very important that Hamilton and him work together for the team, despite the intense rivalry expected.
"For us, as I keep saying, it is so important for us to be working together as a team or you won't get a British world champion at the end of the year. For us to work as a team is key working together and learning from each other. We have so much experience of working in F1, positives and negatives, we've both been in different situations.
"You see at the end of the year what happens, and who did a better job after those 19 races. There is no use thinking that far into the future, it will be a big mistake, you have to think of now and how we make this car as quick as we can."