An update on Silverstone's development
| | |
| --- | --- |
| By Steven English | Thursday, January 28th 2010, 12:49 GMT |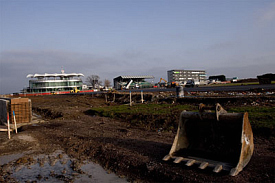 The building works to update Silverstone are well under way with the new Arena layout set to be ready for the 2010 season.
As AUTOSPORT reported on Tuesday, circuit bosses are confident that this year's British Grand Prix will be able to run on the new configuration, while MotoGP's first race back at Silverstone will use the new track on June 20.
The infield area of the circuit is being redeveloped to include the new Arena section, the current start/finish straight is being widened, the Stowe circuit is being extended, and work has begun on a new pit and paddock complex between Club and Abbey corners.
The site has 230 people working full-time on the building with £7million already invested. So far, 180,000 tonnes of earth have been moved and 8000 tonnes of new asphalt already laid.
The grandstands on the current pit straight have been removed so the track can be widened on the run to Copse corner. They will be re-built once the track works are complete. Ninety per cent of the circuit's kerbs are being replaced to accommodate both bikes, for MotoGP, and cars.
The new pit and paddock complex is due to be completed for 2011, with 2010 events still using the current pits. The new pit lane entry will leave the current circuit on the inside of the track in the Vale section, between Stowe and Club corners.
The National straight will become part of the GP circuit, with the track joining it from the new Arena section. As a result, an asphalt run-off area has replaced the gravel bed at Brooklands corner.
To see a picture gallery of the work at Silverstone this week, click here.