Schumacher fired-up after GP2 test
| | |
| --- | --- |
| By Matt Beer | Wednesday, January 20th 2010, 10:14 GMT |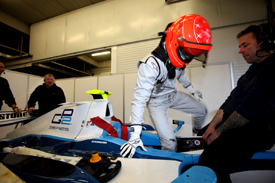 Michael Schumacher says he felt as if he had never been away from the cockpit when he got his comeback underway in earnest with last week's GP2 test.
The Formula 1 returnee spent three days at the wheel of the GP2 Series' development car at Jerez, both assisting the championship with its technical programme and getting some track time while the F1 testing ban was still in force.
"The test was super," said Schumacher in an interview for his personal website. "We have been handicapped a bit because of the weather in the first two days but on the third day we could do a lot and even simulate a race on slicks.
"It went better than I had expected. I immediately felt well in the car, it was as if I never was gone."
Schumacher had to call off a planned comeback with Ferrari last summer when it became clear after a test that neck injuries sustained in a motorcycle accident were still an issue. But he said there was no hint of this problem during his GP2 sessions.
"The after-effects of that accident are gone since long, that's why I was sure that the neck would not cause any problems," he said. "This was one year ago, that's over.
"I have been practising since December physically very carefully and feel extremely fresh and fit. That was one of the reasons why I felt so good in the car in Jerez.
"But then, Formula 1 is another thing, the g-forces are higher, that's not really comparable. That is why I look forward so much to testing in February. Only then the old feeling will be completely back. I can't wait to be back there."
He added that he was now raring to get behind the wheel of an F1 car again when testing resumes at Valencia in the first week of February, and said he felt much more fired-up than he had in his last few years in the world championship.
"After my retirement at the end of 2006 I was very happy, I felt relief, just like freedom," said Schumacher.
"I enjoyed that feeling because especially in the last two years F1 had demanded a great deal from me - not the racing, that I loved during all the time, but all those things which relate to living under constant observation. It did me extremely well to be quiet for those three years.
"It really is as if my batteries were fully loaded. My energy is back completely. I really notice how the prickle is coming, how motivated I am because I so much look forward to this competition. It is about time to start this whole thing."