Q & A with Kris Meeke
| | |
| --- | --- |
| By David Evans | Tuesday, January 19th 2010, 10:00 GMT |
Reigning Intercontinental Rally Challenge champion Kris Meeke's title defence gets underway tonight when the Monte Carlo Rally's ceremonial start takes place ahead of Wednesday morning's opening stages.
Last year this rally saw one the few blips in Meeke's ultra-successful season, as he crashed out in what he described as the most frightening accident of his career, and this year's preparations were hampered when heavy snowfall forced him to abandon a pre-rally test.
But as Meeke told AUTOSPORT, he still feels in better shape starting 2010 than he was twelve months ago.
Q. Losing a day of your test is not the ideal preparation for the Monte Carlo Rally...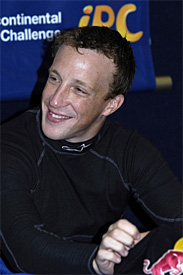 Kris Meeke: It's okay. I did a test on snow just before Christmas, so we have had a full day of running on that surface already.
Q. How bad was the weather?
KM: It was absolutely terrible. The wind was about 80 or 90mph. We got about two kilometres out of the hotel and knew straight away that we weren't going to be able to do anything, so we turned around and came back. You couldn't see the end of the bonnet. We had about 60cm of snow and you can imagine what the drifting would have been like with such high winds. It was impossible to test.
Q. Where was the test?
KM: That first day was about 100 kilometers east of Valence. The day on asphalt was just south of Valence.
Q. How much of the data you gathered on last year's Monte is useful this year?
KM: Well, we've been through a year of development with the car and we have some new bits and pieces to change for this one. It's like everything and everybody in motorsport, we're all trying to find the next step, but yes, what we learned last year will be useful.
Q. How well do you feel you have prepared?
KM: A hell of a lot better than last year. I feel completely happy in the car and completely comfortable. But at the same time this is the Monte Carlo Rally, you can fall flat on your face no matter how hard you try and prepare for this event.
Q. What's the biggest factor for you?
KM: Tyres, without a doubt. If you get the right tyres, then you are going to be looking at a good result, but if you get it wrong then you can be out of the running in no time. Look at those two stages on the first day, the first stage could have 50 per cent snow on it - and then there's the long one at 45 kilometers where the conditions could be anything, it's going to be a big gamble on tyres that day.