Briatore rules out return as team boss
| | |
| --- | --- |
| By Pablo Elizalde | Monday, January 18th 2010, 11:16 GMT |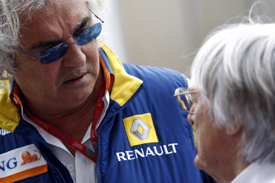 Flavio Briatore has ruled out returning to Formula 1 to manage another team following his exit from the sport over his involvement in the fixing of the 2008 Singapore Grand Prix.
The Italian was given an indefinite ban from Formula 1 by the FIA after he left the Renault team, of which he had been in charge since 2000.
Briatore recently won an appeal against the FIA's decision, and a French court overturned the ban imposed on him and on director of engineering Pat Symonds.
Despite his victory, Briatore says he is not interested in returning to the sport as a team boss.
"It was a great victory for me in the French court," the Italian told the Mirror. "I still feel bitter about what happened and for three or four months it was very, very difficult.
"I will never manage another team in Formula 1 in my life, this is sure, but I have got my dignity back which is important after 20 years in the sport.
"We had the report of the FIA and the report of the stewards and there was no evidence that I was involved in the accident. This is official. Done by FIA. Simple."
The former Renault boss, whose ban also prevented him from managing drivers, said he intends to sue the FIA for the money he has lost.
"We lost Alonso, we lost [Heikki] Kovalainen, we lost several drivers," he told the Telegraph. "We will sue the FIA for the money we lost."