Sainz 'extremely proud' of Dakar win
| | |
| --- | --- |
| By Pablo Elizalde | Monday, January 18th 2010, 10:45 GMT |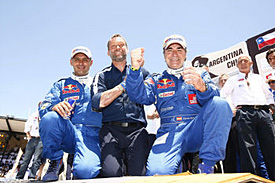 Carlos Sainz says he is 'extremely proud' after taking victory in this year's Dakar rally with the Volkswagen team.
The former world rally champion clinched his first victory of the event in which he made his debut in 2006, beating team-mate Nasser Al-Attiyah by just over two minutes after 14 stages.
Sainz admitted it was hard to choose the greatest victory of his career, but admitted he was very proud of his achievement this year.
"I've won two rally world championships and now the 'Dakar'. In principle both are similar disciplines, however, at the same time completely different. And they are difficult to win," said the Spaniard.
"One thing is sure: the Dakar Rally is a great race of enormous importance in the sporting world. To have won this makes me extremely proud, particularly as I won it my way, and according to my understanding of this sport."
The Spaniard said he had not decided on what he will do next or if he will try to defend his title next year.
"With the 'Dakar' only just behind me I haven't given this very much thought," said Sainz. "However, I will certainly be getting together with Kris Nissen soon.
"(laughs) Perhaps Volkswagen will move into Formula 1 - that would be just at the right time for me," added the 47-year-old.
Sainz said trying to win for his team was the best way to stay motivated after so many years in motorsport.
"I always tell myself: you have to win for your guys. Winning is the best motivation. The team is fully and entirely devoted to winning, and you can only reward this incredible performance by permanently doing your utmost.
"It is a good feeling to repay the crew on my car, my engineer Gerard Zyzik and the management team under Volkswagen Motorsport Director Kris Nissen and Team manager Peter Utoft with a 'Dakar' win for their efforts."