Mercedes: Driver status is Brawn's call
| | |
| --- | --- |
| By Michele Lostia and Matt Beer | Sunday, January 17th 2010, 15:42 GMT |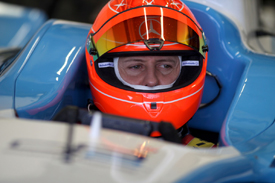 Mercedes chief Dieter Zetsche says it will be up to team boss Ross Brawn to decide if Michael Schumacher takes number one status for his Formula 1 comeback.
Schumacher was given priority over his team-mates for much of his previous F1 career. He will be paired with countryman Nico Rosberg at Merccedes when he returns this year.
When asked by Gazzetta dello Sport if Mercedes would designate Schumacher as number one, Zetsche replied: "We have a team manager for this. Ross Brawn is one of the best. If he wasn't he wouldn't have won both titles last year, despite his team being in their debut. He will decide and it will be the best for the drivers and the constructor."
Zetsche added that he had no concerns whatsoever about Schumacher returning after three years away, and reckons the German is as enthusiastic as any rookie.
"We are convinced that Michael will do well and that he'll win again," he said. "Maybe not immediately, let's give him some time, but an ace never disappoints. I've been impressed by his enthusiasm. Rather than a return, it seems to me like a new debut."
Asked how he would feel if Schumacher proved disappointing, Zetsche said: "This is an hypothesis I don't even contemplate. Ross Brawn has already spoken about Schumi's competitiveness.
"He has been close to him for years and he knows him more than I do. If he says it's okay, I have no reason to think otherwise."