'Shortcut' plan a bad idea, says Button
| | |
| --- | --- |
| By Mark Glendenning | Saturday, January 16th 2010, 15:20 GMT |
World champion Jenson Button believes that Bernie Ecclestone's suggestion that shortcuts be introduced at F1 circuits to spice up the racing would be unworkable on safety grounds.
Ecclestone proposed the idea during a media event last week.
"I've tried to push the teams with a number of proposals. Imagine a shortcut which a driver can use five times every race," he said. "It would stop people getting stuck behind others and be good for TV."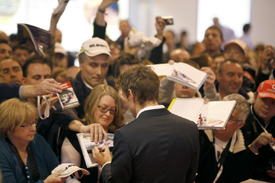 But speaking at AUTOSPORT International in Birmingham, Button said that he doubted that the idea could work.
"I suppose if you are the only person who knows about [the shortcut] then it is a great idea," Button said.
"We struggle seeing anyway out of the sides of the cars, because the cockpit comes up to here for safety reasons. So if there is a car coming at an angle, it can be very dangerous.
"It's probably not one of his better ideas. Bernie has a lot of very, very good ideas, and that is not one of the best ideas that Bernie has come up with."