Sainz hits out at team-mate Al-Attiyah
| | |
| --- | --- |
| By Pablo Elizalde | Friday, January 15th 2010, 16:31 GMT |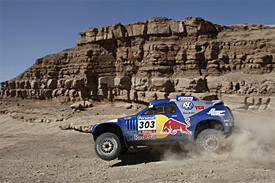 Dakar rally leader Carlos Sainz hit out at Volkswagen team-mate Nasser Al-Attiyah after the duo made contact during the penultimate stage of the event.
Al-Attiyah managed to reduce the gap to Sainz to just two minutes and 48 seconds going into the final day after he beat the Spaniard by over two and a half minutes in today's stage.
Sainz had started ahead of his team-mate and their cars made contact when Al-Attiyah overtook the Spaniard near the end of the special.
The former world rally champion said the Qatari then started to drive defensively to stop him from overtaking, a move Sainz labelled as unsporting.
"Logically he was behind, I was overtaking bikes in the dust, and at one point he overtook me and he touched me and started weaving in front of me," Sainz said after the end of the day.
"I don't think that's very sporting. If I, when I was seeing him in my mirrors, had started weaving I'm sure he wouldn't have overtaken me. Two days ago I was 120km in his dust trail. It's not normal that your team-mate hits you."
Al-Attiyah felt he had done nothing wrong, and suggested Sainz should have moved to let him pass.
"No, nothing, but he doesn't open the road for me at the 280-km, and after I got him in the straight line. I don't care, it's okay," he said.