Highcroft: ALMS will bounce back
| | |
| --- | --- |
| By Steven English and Matt Beer | Friday, January 15th 2010, 10:56 GMT |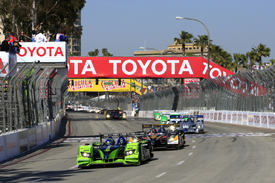 Highcroft Racing team boss Duncan Dayton remains confident that the American Le Mans Series has a bright future despite the departure of several major teams in recent years.
The championship lost both Audi and Porsche after 2008, and at the end of last season the Fernandez Acura team also closed its doors. Fellow Acura squad de Ferran Motorsports' future is in severe doubt too - with the team set to switch to the IndyCar Series if it continues racing at all.
But Dayton, whose team won the 2009 title with David Brabham and Scott Sharp, says the quality of the field remains high and is optimistic that the reduced grid size will be shortlived.
"It's a little bit unfortunate given the economy and the way the larger manufacturers are starting to pull back a bit, but you still have to remember the value of a lot of the people that are racing," said Dayton on stage at AUTOSPORT International. "The teams, drivers and cars that are there are top calibre so the competition is very intense.
"I think 2010 will be a bit of a rollthrough year with new teams and manufacturers interested in coming for 2011. With IndyCar holding off its new package for 2012 there should be a lot of enthusiasm for ALMS in 2011."
The ALMS is tweaking its format this year and combining LMP1 and LMP2 into a single category. The moribund GT1 category is also being merged with GT2, with the one-make class for GT3 Porsches being retained along with a new LMP Challenge division for Formula Le Mans cars.
Dayton believes the changes are the right way forward for the series.
"I've always advocated a two-class system and with the lower numbers of cars it makes more sense for 2010," he said. "For the fans I think it's better to merge the classes because I think even some knowledgeable people would struggle to tell the different between a P1 and P2 driving past.
"We've won outright with a P2 car and there is a history of them being stronger than the P1 cars at some of the twistier tracks, so it can be very confusing for some fans."
Highcroft will use a modified version of Acura's LMP2 car for its title defence this year. Ex-de Ferran driver Simon Pagenaud will partner Brabham, with Marino Franchitti moving from Dyson to join the team at long distance events.