Massa quizzed Piquet about 'crashgate'
| | |
| --- | --- |
| By Dieter Rencken and Matt Beer | Friday, January 15th 2010, 09:49 GMT |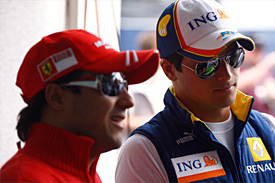 Felipe Massa has revealed that he quizzed Nelson Piquet Jr and Flavio Briatore about the events of the 2008 Singapore Grand Prix even before the scandal broke, having always been sceptical about Piquet's incident in that race.
Massa was leading in Singapore until the safety car came out due to Piquet's deliberate crash. A disastrous pitstop during the caution period then delayed Massa and left him unable to score in the race.
He subsequently lost that year's world championship to Lewis Hamilton by a single point.
Speaking to reporters at a Ferrari media event in Italy, Massa said he had put his suspicions to Piquet prior to the truth about the incident being revealed.
"I spoke to him, yeah. I spoke to him before [it became public]," said Massa. "We were going together to drive go-karts in Italy and I asked him about Singapore - I wanted to hear the right story because I was thinking that the combination [of events] was so perfect [for Renault], what happened in that race.
"And he was laughing, he didn't want to say the truth. I said 'okay, you're laughing, but I understood. Maybe one day we'll speak again'. And after one month or less, the story came back in the press.
"I even spoke to Flavio about that in Bahrain last year. I asked Flavio about Singapore and he said 'no, no, it's impossible' and he was even trying to laugh sometimes."
Massa insisted he saw no reason to revisit the incident now that the 2008 championship was long gone.
"But if I spoke to them after I knew? It didn't change anything," said Massa. "Why should I go there and speak? We will not go back to the past. We need to think about the present and the future. The past is the past.
"Everybody knows what happened in 2008. I don't think we're going to win anything by going back through all these problems. For sure it was very frustrating what was happening in that race, and it changed many things around the championship.
"But anyway, we need to think forward. I hope these things don't happen anymore - for the sport, not just the business. I hope we'll go back to fighting for the championship and I hope I can be a champion one day. That's the way I'm thinking."
However Massa did concede that he still sees no reason why the Singapore 2008 result could not have been annulled.
"If you see that something was not right in sport, that it was done in a way against the rules, I do not think it would have been a problem to change it," he said.
"It would not have been nice for the sport in general, but things should be done within the rules. That is my only opinion."