Silverstone set to decide on GP layout
| | |
| --- | --- |
| By Jonathan Noble | Thursday, January 14th 2010, 14:39 GMT |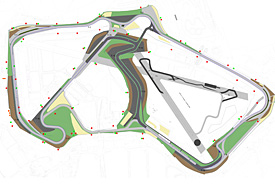 Silverstone bosses are hoping that a final decision on whether this year's British Grand Prix can take place on its new Arena layout will be made in the next few days.
The Northamptonshire-based track has already submitted an application to the FIA for Formula 1 homologation for the new configuration, which was originally conceived for MotoGP.
However, although hopes are high that the new track can get the green light for holding the British GP in 2010, Silverstone has held back on committing to the plan until other logistical issues are sorted.
Silverstone managing director Richard Phillips said at the AUTOSPORT International show on Thursday that he was holding meetings in the next 24 hours which should provide a clearer picture on what is possible for this year's event.
"We are doing a lot of work at the moment," he said on the AUTOSPORT stage. "If you went to Silverstone now, you would not recognise it.
"We are building the new Arena circuit. It has gone into the FIA for [F1] homologation so we should be able to run FIM MotoGP and F1 on it. The issue really for 2010, is whether we can do that logistically. So we have issues with maybe Paddock Club, and Paddock Club parking and things like that to resolve.
"I am meeting with them tomorrow [Friday] and hopefully in the next few days we will be able to know which circuit we are going to use."
Phillips said that he hoped work on the new pit and paddock complex, due to be finished in time for the 2011 British GP, could make a big step forward later this month.
"There is an awful lot going on at the moment because the Stowe circuit is being extended as well - with the bits going on there," he said.
"There are low friction surfaces, irrigation surfaces and so on, and the work we are doing on the new F1 circuit and MotoGP circuit should be finished mid-March. Then we are looking to start the pits - and the pit wall can maybe start this month. So things are moving quite quickly."
Phillips said he was also encouraged that ticket sales for this year's race had been so promising – even though the race only got the green light in December.
When asked if, with Jenson Button and Lewis Hamilton racing for McLaren, Silverstone would have to turn people away this year, Phillips said: "I wouldn't go quite as far as saying that yet, but ticket sales are going quite well.
"We are catching up quite quickly at the moment, so we are looking forward to a big event again in the summer."