Schmidt/Ganassi to run Bell at Indy
| | |
| --- | --- |
| By Matt Beer | Wednesday, January 13th 2010, 21:03 GMT |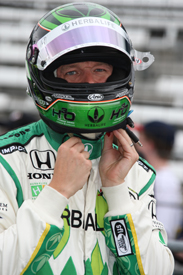 Leading Indy Lights team Sam Schmidt Motorsports is to team up with top IndyCar squad Chip Ganassi Racing for an Indianapolis 500 entry again this year - and has already signed Townsend Bell to drive the car.
Last year Schmidt ran Alex Lloyd at Indy in collaboration with Ganassi, and team founder Sam Schmidt believes continuing the relationship gives his outfit a genuine shot at victory.
"Winning Indy is clearly a life-time dream," said Schmidt, who fielded a full-time IndyCar team in the early 2000s before deciding to focus on Indy Lights, where his drivers have won three titles.
"Last year I said that our effort was our best chance yet to drink milk in victory lane, and I have to say that again going into this year's race. To be partnered with an organisation of the calibre of Chip Ganassi Racing speaks for itself.
"We're especially excited about Townsend driving the car because he's always run really well at the track. He took a limited opportunity last year and parlayed it into a top-five finish, and we're hoping with the combined resources we're providing him in a top flight programme, we can all share in a victory celebration come May 30th."
Bell made a one-off appearance with KV Racing at Indy last year and came from 24th on the grid to finish fourth.
"I'm excited to be able to confirm my plans for the Indy 500 so early in the year," Bell said. "To be competing with Sam Schmidt gives me a lot of confidence heading into May - I couldn't be in a better position."