Piquet aims for Daytona debut
| | |
| --- | --- |
| By Diego Mejia | Wednesday, January 13th 2010, 08:54 GMT |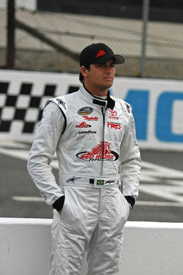 Nelson Piquet Jr could make his NASCAR racing debut in a month's time at Daytona, when the Truck Series kicks off.
On Monday, Piquet Jr announced on his website that he was turning his back on Formula 1 to start a career in NASCAR.
Although he did not reveal exactly what his plans were, the Brazilian plans to compete in the Truck Series season-opener, according to sources consulted by AUTOSPORT.
Piquet is scheduled to test for Red Horse Racing for a second time today and Thursday at New Smyrna Speedway in Florida, south of Daytona.
The three-car Truck squad has already signed two of its drivers for this season but has yet to announce who will pilot its #1 Toyota Tundra - and Piquet is believed to be the leading candidate for the seat.
Speaking to AUTOSPORT at Phoenix following his first test for RHR in November 2009, Piquet stated that if he was to switch to NASCAR, he wanted to tackle the challenge from the lower series in order to learn about the basics of stock car racing.
He ruled out the possibility of jumping straight into a Sprint Cup Series car, like other former F1 drivers have done recently.
"Well obviously I don't want to jump any stages. If I come to America, I want to do it properly," said Piquet. "I want to learn from the bottom. Coming from Formula 1 doesn't mean that I can come here and step into a Cup car.
"Obviously I don't think about that. I really want to start with my head down and build myself up because it's a completely different kind of racing. I want to arrive here in Cup because I earned it, not because I'm arriving from Formula 1."
In the past other former open-wheel racers have entered NASCAR through the Truck Series. AJ Allmendinger and Scott Speed both competed in the trucks before moving up to Sprint Cup level machinery.
Brazilian Porsche GT3 champion Miguel Paludo is also set to test this week beside Piquet at New Smyrna Speedway.