Bahrain still hoping for F1 tests
| | |
| --- | --- |
| By Matt Beer | Sunday, January 10th 2010, 07:49 GMT |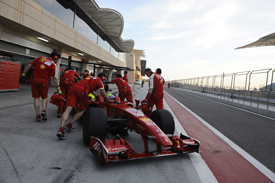 The management of Bahrain Grand Prix venue Sakhir remains hopeful that Formula 1 teams could get dispensation to test at the circuit before the start of the 2010 season if weather conditions in Europe are poor.
With the increasingly tight testing rules preventing pre-season running outside Europe, this winter's four tests are split between Spanish tracks Valencia, Jerez and Barcelona.
In previous years a handful of teams have headed to Bahrain instead, and circuit boss Martin Whitaker is optimistic that this could still happen in 2010.
"We are currently talking to the teams and I am sure that many of them would be more than happy to test in Bahrain," Whitaker told the Gulf Daily News.
"Testing outside of Europe is now banned as part of F1's cost-cutting activities. But if teams who want to come here can get the permission of their rivals, we would be glad to welcome them.
"Right now, it is still too early to say for sure; a lot of them are not even ready to run their new cars. But we are confident we could have one or two come out to Bahrain and test before the season."
Whitaker pointed out that while testing in Bahrain increased travel costs, the near-certain good weather meant more efficient testing was often possible.
"In terms of averages, nowhere else in the world can teams get the most out of a test day than here in Bahrain," he said. "Out of the 38 days of F1 testing we've had over the years, only two have been lost due to poor weather.
"They can also start here from as early as 7.30am and test all the way until 5.30pm, while getting constant air and track temperatures. You do not get that in Europe where you're usually still trying to get the frost off the track at 11am and where there's a lot of wet weather, especially in the winter.
"We have a very good run ratio in Bahrain, though at the same time, we recognise that teams will have a long way to travel. But that will be made up for by the total track time in optimum conditions you get here."
Bahrain will host this year's F1 season opener on 14 March.