Al-Attiyah wins stage, closes on Sainz
| | |
| --- | --- |
| By Matt Beer | Friday, January 8th 2010, 20:03 GMT |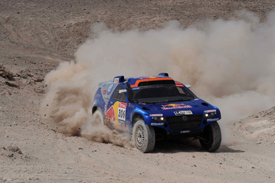 Nasser Al-Attiyah reduced his Volkswagen team-mate Carlos Sainz's Dakar Rally lead to 11 minutes by winning the longest stage of the event.
Al-Attiyah overcame X-raid BMW driver Stephane Peterhansel to claim the stage victory on today's 600 kilometre long Iquique to Antofagasta leg, beating the Dakar legend by 3m29s and Sainz by 4m21s.
"I'm really happy, it was very, very long and really not an easy stage," said Al-Attiyah.
"After 150 [kilometres] we were stuck behind Carlos and it was very difficult for us. But when we started the second part of the stage I tried to push a little bit. It was difficult for me, but I found my chance and I took him.
"It's the longest stage of the Dakar, if you win it you've done a really good job. My plan today was to push and come back again at Carlos."
As well as bringing him closer to Sainz, the result moves Al-Attiyah 11 minutes clear of fellow VW driver Mark Miller in their battle for second place. The American rued time lost to navigation problems.
"We were lost for a long time and I knew I had to push really hard to try to catch something back up," he said. "It was completely unlucky for us and we lost a lot of time. Today wasn't a good day."
Peterhansel's second place on today's stage continued his excellent recovery from the propshaft problem that had cost him the lead on Wednesday. That drama had dropped the X-raid car to 10th overall, but he is already back up to fifth place, just 16 seconds behind team-mate Guerlain Chicherit - and felt he could have gone faster had he not briefly lost the course.
"We made a little error navigating and it cost us one or two minutes," said Peterhansel. "This is probably why we lost the stage."
Both X-raid men moved ahead of Overdrive Nissan's Krzysztof Holowczyc and JMB Mitsubishi's Carlos Sousa on today's stage, and gained further ground as Robby Gordon's Hummer suffered an alternator failure and tumbled down the order.
The rally now pauses for its mid-point rest day tomorrow before resuming with Sunday's Antofagasta to Copiapo stage.
Stage seven results:

Pos  Driver                Car           Time/Gap
 1.  Nasser Al-Attiyah     VW            5h41m29s
 2.  Stephane Peterhansel  BMW            + 3m29s
 3.  Carlos Sainz          VW             + 4m21s
 4.  Mark Miller           VW             + 8m40s
 5.  Guerlain Chicherit    BMW           + 15m33s
 6.  Giniel de Villiers    VW            + 21m22s
 7.  Orlando Terranova     Mitsubishi    + 33m08s
 8.  Krzysztof Holowczyc   Nissan        + 41m39s
 9.  Nicolas Misslin       Mitsubishi    + 47m26s
10.  Christian Lavieille   Nissan      + 1h05m07s

Overall standings:

Pos  Driver                Car           Time/Gap
 1.  Carlos Sainz          VW           26h21m23s
 2.  Nasser Al-Attiyah     VW            + 11m03s
 3.  Mark Miller           VW            + 22m06s
 4.  Guerlain Chicherit    BMW         + 2h02m54s
 5.  Stephane Peterhansel  BMW         + 2h03m10s
 6.  Krzysztof Holowczyc   Nissan      + 2h20m58s
 7.  Carlos Sousa          Mitsubishi  + 3h08m58s
 8.  Guilherme Spinelli    Mitsubishi  + 3h23m35s
 9.  Leonid Novitskiy      BMW         + 4h17m21s
10.  Robby Gordon          Hummer      + 4h25m10s