Peterhansel wins Dakar stage six
| | |
| --- | --- |
| By Steven English | Thursday, January 7th 2010, 19:47 GMT |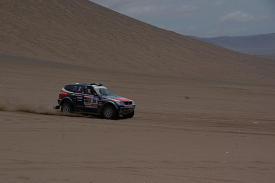 Dakar legend Stephane Peterhansel bounced back from his disappointment yesterday to take his 20th career car class victory in the event today.
The Frenchman passed 11 cars on today's 418km run in Chile from Pedro de Valdivia to Iquique - his record 53th stage win in all categories - just 47s ahead of rally leader Carlos Sainz and 8m55s ahead of yesterday's stage winner Mark Miller.
Peterhansel dropped to 10th in the standings yesterday after losing two hours to transmission problems with his X-raid BMW, but has now climbed back to eighth. He is now just 30 minutes away from fourth overall, but is nearly two hours behind the trio of leading Volkswagens.
Sainz lay third for much of the day in his VW Touareg, then passed Miller and pulled clear in second. The Spaniard was pleased with his run and impressed with the scenery on the drop down through the Atacama Desert to the coast.
"We stayed behind Miller for a long time, in the dust, then I was able to pass him," said Sainz. "No problem today except that half of the stage was raced in the dust.
"But that last drop was incredible. You can see the whole sea. It is very, very steep. It's quite something, really."
Stage 6 results:
Pos Driver                     Car                    Time
 1. Stephane Peterhansel       BMW                4h23m55s
 2. Carlos Sainz               Volkswagen          +00m47s
 3. Mark Miller                Volkswagen          +08m55s
 4. Nasser Al-Attiyah          Volkswagen          +11m34s
 5. Leonid Novitskiy           BMW                 +17m32s
 6. Nicolas Misslin            Mitsubishi          +18m24s
 7. Carlos Sousa               Mitsubishi          +21m29s
 8. Guerlain Chicherit         BMW                 +24m48s
 9. Krzysztof Holowczyc        Nissan              +28m09s
10. Orlando Terranova          Mitsubishi          +33m12s

Overall standings:
Pos Driver                     Car                    Time
 1. Carlos Sainz               Volkswagen        20h35m33s
 2. Nasser Al-Attiyah          Volkswagen           15m24s
 3. Mark Miller                Volkswagen           17m47s
 4. Carlos Sousa               Mitsubishi         1h34m04s
 5. Krzysztof Holowczyc        Nissan             1h43m40s
 6. Robby Gordon               Hummer             1h48m25s
 7. Guerlain Chicherit         BMW                1h51m42s
 8. Stephane Peterhansel       Bmw                2h04m02s
 9. Guilherme Spinelli         Mitsubishi         2h12m18s
10. Leonid Novitskiy           BMW                3h10m18s